Bananas and other tropical fruits have grown to be essential commodities in the international market. Developing countries value these fruits both for nutritional content and commercial viability, as they are relatively cheap yet excellent sources of vitamins and minerals. Banana is one of the 5 most commonly eaten fruit in the world. Including Cavendish, the most commonly traded variety, banana is also the fourth most important food crop in agriculture after rice, wheat, and maize.  Most banana exports involve a small number of countries and are mostly controlled by 5 multinational companies.
Meanwhile, countries produced tropical fruits solely for domestic consumption until the 1970s. Trade volumes have expanded dramatically as developing countries recognize the benefits of diversifying products, since traditional export crops have been experiencing a downward trend in prices. However, only about 20% of the products are traded internationally.
BANANA
Production
World production of bananas was estimated at more than 102.1 million tonnes in 2010, about 6% more than 2009. Asia accounted for nearly 61% of world production. Next were the Americas with 27%, Africa with 10%, Oceania with 1.7%, and Europe with 0.4%.

Exports
Total world banana exports marginally declined to 14.7 million tonnes in 2009 compared to 2008, due to a lesser available supply from Asia and Africa. Larger shipments from Latin America and the Caribbean were not enough to offset the decline.
Latin America continued to be the largest banana exporting region in the world, with Ecuador reaching 5.5 million tonnes. The reduction of import tariffs in the European Union (EU), firm prices, and favorable weather were primarily responsible for the 9% expansion in supply. The official minimum price for Ecuadorian banana producers was raised from USD 5.40 per box in 2009 and continued throughout 2010, from USD 4.80 in 2008. Exports from Ecuador are predicted to further increase in the upcoming years. Meanwhile, Costa Rican exports recovered by 14% in 2010 after falling by 17% in 2009 due to bad weather. Export volumes from Colombia and Guatemala also decreased by 14% and 24%, respectively because average export prices fell by about 12%.
In Asia, India increased exploratory shipments of banana to the EU by 65%. Export reduced in the Philippines by 24% in 2009 because of typhoons and flooding. The impact of natural disasters further decreased exports by 24% in 2010. Export of Philippine bananas to the Australian market was stalled because of a study in risk management measures. In China, export reduced by 13% in 2010 because of increased domestic consumption, prompting a rapid production growth. This could have serious implications for the Philippines, which accounts for 85% of China's total banana imports.
For Africa, banana exports from Cameroon declined by 8% in 2010. Cote d'Ivoire decreased by 3% in 2009.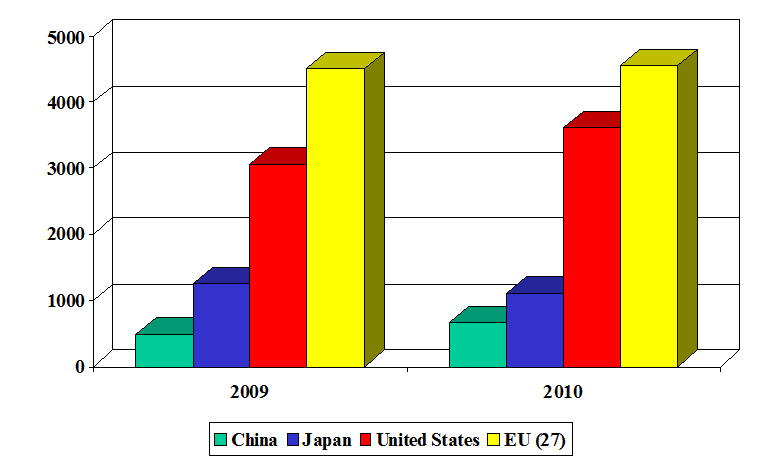 Imports
World imports of banana fell by 7% in 2009. Although China and Japan respectively increased imports by 36% and 15%, these were not enough to offset the decline in traditional import markets of the United States and the EU. This decline was an effect of a significant drop in consumption due to the economic slowdown and the higher prices of goods. Import returns in the EU increased in 2010, possibly as a result of the reduction in import tariffs and the natural recovery in consumption trends.
Outlook for banana
Major suppliers are breaking into the market to answer the increasing demand for banana. Most expansion projects are aimed to take advantage of the European Union's (EU) Everything But Arms (EBA) initiative. The EBA states that fruit exports from the United Nation's 'Least Developed Countries' are duty free and quota free. This would ensure a cheap and steady supply of bananas to the European markets.
Production, trade, and consumption of bananas will largely be affected by the environment, trade policies, food safety, and health concerns. However, the expansion of production and trade growth does not necessarily assure improved benefits for banana growers in developing countries.
TROPICAL FRUITS

Production
World production of other tropical fruits was estimated to be over 82.2 million tonnes in 2009, slightly less than 82.5 million tonnes of 2008. Mango accounted for 39% of production, followed by pineapple at 23%, papaya at 13%, and avocado at 4%. Minor tropical fruits like lychee, durian, rambutan, guava, and passion fruit were traded in smaller volumes, accounting for 17.8 million tonnes or 22% of world tropical fruit production in 2009. Asia remained to be the region that produced the largest volume of tropical fruits, followed by the Americas, Africa, then Oceania.
Export
Although the volume of exported tropical fruits is a small fraction of the total, the quantities were large when compared to other fruits. In 2009, the total value of the international fresh tropical fruit trade was USD 5.4 billion, compared to USD 7.9 billion for bananas, USD 5.4 billion for apples, USD 4 billion for oranges, and USD 2.1 billion for pears. Processed tropical fruits that were traded in 2009 even accounted for a higher value, with USD 6.5 billion.
Export of fresh tropical fruits generally increased 2009. Avocados increased by 23%, papayas by 15% and mangoes by 6%. The exception were pineapples, where export declined by 22%. Global exports of minor fruits indicated expansion, although at a weaker rate because of the economic slowdown of the region.
Import
World imports of fresh major tropical fruits increased by 5% in 2009. The United States was the largest importer of fresh tropical fruits, followed by EU, Japan, and China. Imports for minor tropical fruits were concentrated in China, Singapore, and Malaysia.
Outlook for Tropical Fruits
In 2009, rural and household income from tropical fruit production amounted to USD 18 billion. Tropical fruits compete at the upper end of the market, maximizing earnings and contributing to the rapid rise in trade values. To keep this income secure, the tropical fruit industry has to remain competitive. Previous price premiums can longer depend on the novelty of tropical fruits, replaced by the need for quality-based premiums. This can be attained through high-quality post-harvest infrastructures.
Further research is also required for new technology and effective production methods that will lower the cost in the supply chain, ensuring a competitive tropical fruit industry. Profit margin erodes along the value chain, and an increase in price could result to product substitution. A decrease in demand may cause smaller firms to close down.
The demand for tropical fruits should continue to grow strongly, amidst the slower rate last decade. Ample opportunities exists for tropical fruits, ensuring food security while maintaining profit as long as the challenge of managing the field-to-market supply chain for fresh and processed products is addressed.
Presented by Kaison Chang at the Workshop on 'Increasing competitiveness and market access through quality assurance' in China on 17 December 2011. Kaison Chang is a Senior Economist at FAO and Secretary to the Intergovernmental Group on Bananas and Tropical Fruits