A workshop on Policy interventions  to facilitate smallholder integration into tropical fruits value chain and market access was held in Ho Chi Minh City Vietnam on 5-6 July 2013. The workshop was a joint collaboration between UN's Food and Agriculture Organisation (FAO) and International Tropical Fruits Network (TFNet). The workshop also referred to a current joint FAO and TFNet study on tropical fruit smallholders in Indonesia and Vietnam.
The objectives of the workshop were to:
Understand the challenges faced by fruit smallholders in value chain integration and market access
Analyse the determinants which can improve market access for smallholders
Identify policy interventions that can enhance smallholder integration into the value chain
Provide capacity to policy makers in the implementation of policies that can improve smallholder integration.
The workshop was attended by 22 participants from 11 countries namely, China, Fiji, India, Indonesia, Myanmar, Malaysia, New Zealand, Philippines, Sudan, Sri Lanka and Vietnam.
The workshop was conducted by FAO's Kaison Chang and Margarita Brattlof and assisted by TFNet's CEO. Four technical papers were presented during the workshop. Presenter Prof. Norsida Man, from University Putra Malaysia delivered on 'Value chain approach in developing market access for horticultural crops in Malaysia, followed by Dr. A.K. Misra from India, who presented on 'Smallholders integration in fruit value chains in India'. The other two papers were reports from the current study on smallholders' integration in tropical fruits value chain in Indonesia and Vietnam.  Dr. Luong Lap discussed on fruit smallholders in the Vietnam situation while Ms. Vyta Hanifah presented the situation in Indonesia. The TFNet CEO rounded of the presentations with some recommendations in the different policy areas.
The workshop deliberated on 2 issues, one on the policy issues of smallholders' integration and the other on enhancing smallholder integration into the value chain.
Generally, the workshop concluded that:
1. Tropical fruit subsector policy to promote the production, consumption and trade.
Eight key policy items were identified namely seed and planting material policy, sustainable production, land tenure and land use policy, accessibility to credit, effective post harvest management, institutional support , private public partnership and enhancing marketing of tropical fruits.
 The cross cutting factors include Research and Development, technology transfer, production and productivity, appropriate varieties, participatory approach, risk management, market promotion, quarantine issues, regulatory measures and gender issues.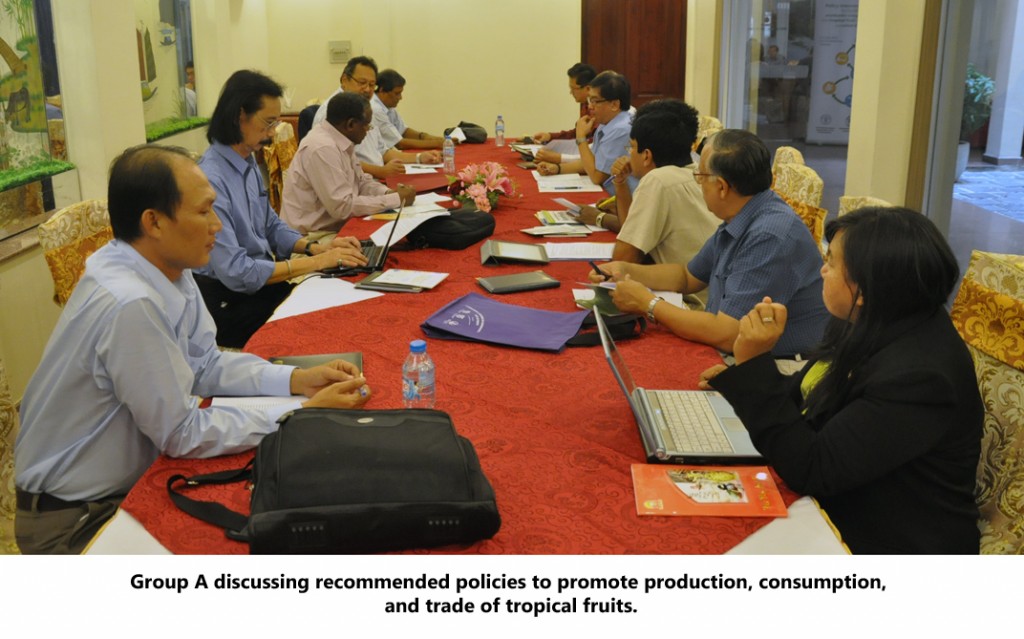 2. Enhancing smallholders integration into the value chain
The determinants that can integrate smallholders into the value chain are are factors that influence production of high yielding, quality, safe and marketable produce.  These factors include production location and land availability, technology and skills, market information, credit facilities, farmers organization and institutional support.
Production location and land availability refers to the existing land tenure and crop zoning system and how these can influence productivity, while inaccessible location requires the infrastructural improvements.
In technology and skills, improvement in quality and safe products are paramount with the components of R & D in agronomic practices, post harvest management and pest and disease control required for mitigation. Standards and certification and transfer of technology in these areas have to be emphasized.
Smallholders need to be members of farmers' organizations such as cooperatives, clusters and groups. The participatory approach involving all stakeholders is recommended.
Other key factors which can enhance integration are availability of credit facilities, market information for producers and the involvement of the private sector. Market promotion activities can also assist in improving market access.