The spiky hard exterior enclosing a sweet core is not only a summer hot favourite, but its many parts that are thrown away without a second glance can make for delicious dishes. Rural women from villages around Auroville are all set to cash in on the jackfruit for small business that involve processing and packaging jackfruit-based snacks and preserves.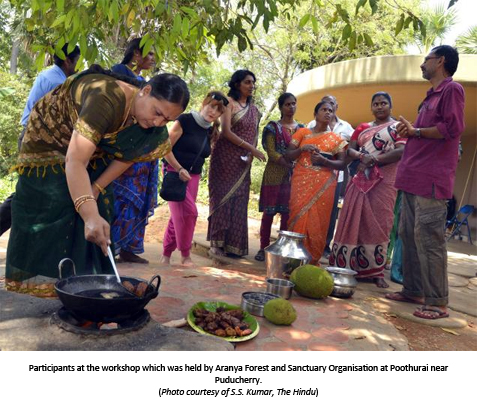 While state of Kerala is famous for its jackfruit gardens, the fruit is also abundant in certain parts of Tamil Nadu including Panruti and adjoining areas. The Aranaya forest and sanctuary, an organization that has been carrying out conservation and afforestation activities in Poothurai village near Auroville, has initiated the project of turning jackfruit remains into value-addded products.
Workshop
As an initial step, as many as 15 women leaders of various self-help groups in and around the region were introduced to the various possibilities of using jackfruit in a workshop on Friday. C.D. Suneesh, from the Ruchie Farmers Network, Wayanad, trained the women in separating the fruit, cleaning it and preparing various dishes.
By lunchtime, the women laid out a feast of cutlets, payasam and juice with jackfruit as the primary ingredient. "While Kerala and Karnataka have found ways to resourcefully use the jackfruit, Tamil Nadu and Puducherry are yet to do so", feels D. Saravanan, of Aranya. The products prepared on Friday are those with a limited shelf-life but a training of three days and more was required in preparation of preserves, jams and the like, said Mr. Saravanan.
The jackfruit value-added training was the first activity launched under the Biodiversity Conservation and Educational Centre, launched on Friday. The project was initiated with the assistance of Sri Aurobindo International Institution of Education and Research (SAIIER).
The centre was inaugurated by N. Balabaskar, secretary, Auroville Foundation. The centre will give impetus to environmental education ad conservation by working with children, self-help groups and the local community. Nature camps will be conducted regularly and there is a plan to offer certificate course related to conservation.
Source: The Hindu