One of the recent issues regarding agriculture is the growing concern of climate change, which is affecting food production therefore affecting food security. Besides grain crops and staples, fruits, especially tropical fruits have been singled out as important food crops that need to be improved and developed to complement and enhance food security and nutrition, especially in rural populations. This issue is also related to tropical fruit development challenges which occur at all stages of the value chain including post- harvest losses, appropriate technology, lack of technology transfer and ineffective policies.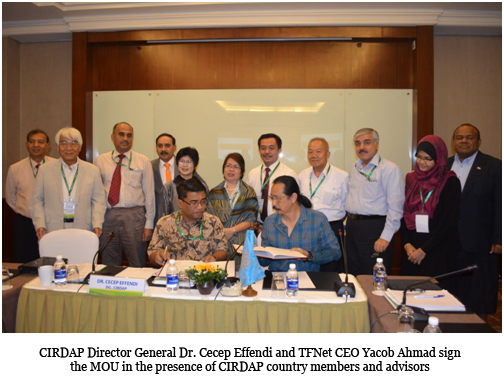 TFNet and the Centre o Intergrated Rural Development for Asia and the Pacific (CIRDAP) can work hand in hand in addressing some of these key issues. It is proposed that workshops and symposiums be held to disseminate information or practices already conducted in member countries, to countries that lack them.
The TFNet / CIRDAP MOU was signed on 18 September 2014, in conjunction with CIRDAP's 29 Technical Meeting and  Workshop on Best Practices which was held on 15 – 19 September 2014 in Hanoi, Vietnam.
Both organisations have almost similar objectives of improving livelihoods of smallholder farmers and rural communities through programs in member countries. While TFNet focuses on tropical fruit consumption, production and trade to improve livelihoods, CIRDAP promotes best practices to be shared within member countries to improve the lives of rural communities.
In cognizance of the various areas of collaboration which can benefit both organisations, it was suggested that TFNet collaborate more in joint programs to complement roles and objectives, and at the same time reduce budgetary requirements.
The MOU spells out the technical cooperation between TFNet and CIRDAP in the areas of human resource and capacity development, joint implementation of projects, sharing information in knowledge and resources, networking and exchange of study visits.
Activities listed in the MOU includes organising training programs, seminars, workshops and conferences, coordination with institutions in the region, provision of technical consultancies and experts, exchange of information and any others which the two parties might agree upon.