The International Tropical Fruits Network (TFNet) was invited to participate in the 70th Session of Committee on Commodity Problems (CCP) in the Food and Agriculture Organization headquarters in Rome, Italy on 7-9 October 2014.
The CCP aims to review the issues affecting production, trade, distribution, and consumption of international commodities, prepare a factual and interpretative survey of the world commodity situation; and report and submit suggestions on policy issues to FAO, its subsidiary bodies, and Member Nations.  TFNet was established under the Intergovernmental Group (IGG) for Bananas and Tropical Fruits, which is one of the many subsidiaries under the CCP.
TFNet was invited to set up a display booth in the FAO Atrium along with other FAO-associated groups such as the Agricultural Market Information System (AMIS), World Banana Forum (WBF), and the publications of Trades and Markets during the CCP session.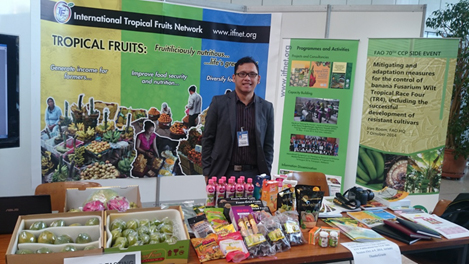 The fruits displayed were mainly products from country members of TFNet. The fresh fruits in the booth came from Malaysia such as dragonfruit, pomelo, and guava, as well as solo papaya and starfruit contributed by, Exotic Star, a private company from Malaysia.
The processed fruits from Malaysia included guava juice and puree from Sime Darby Beverages and durian based products. Other products from the Philippines and Indonesia were dried mangoes, dried pineapple, mango-banana-passion fruit candy balls, banana chips, and papaya soap, xanthone supplements. From Thailand were dried banana, cantaloupe, and freeze-dried mangosteen, jackfruit, and banana plus mango and pineapple juice from India.