In the current agricultural scenario, there are more opportunities for tropical fruits to compete in markets that have traditionally been for temperate fruits. However, participation from tropical fruit growers are somewhat restricted by the difficulties faced in complying with international regulations and consumer trends, besides ensuring consistent supplies, logistical constraints and being competitive.
These issues were discussed in a recent workshop organised by the Food and Fertilizer Technology Centre (FFTC) and Southern Horticultural Research Institute (SOFRI) of Vietnam jointly organised a workshop on increasing production and market access for tropical fruits in Southeast Asia at SOFRI, Tien Giang, Vietnam from 13 – 17 October 2014. TFNet was invited to participate and provide inputs for the workshop.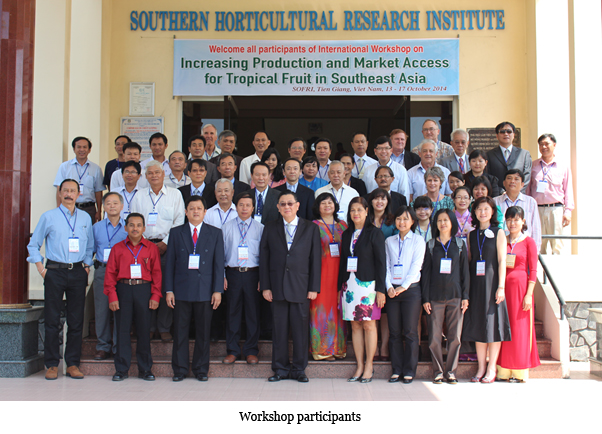 The objectives of the workshop were to:
To address the constraints related to production and marketing of high quality and safe tropical fruits in the context of changing natural and socio-economic environment
To formulate collaborative strategic directions to increase profit from growing and marketing tropical fruit
The workshop was attended by 40 participants from Australia, Indonesia, Myanmar, Malaysia, Japan, Korea, Philippines, Thailand, Taiwan and Vietnam. The Vice President of Vietnam Academy of Agricultural Sciences (VAAS), Dr. Nguyen Hong Son, delivered the welcome address while Dr. Yu-Tsai Huang, Director of Food and Fertilizer Technology Center (FFTC) delivered the inaugural address. Dr. Nguyen Van Hoa, Director of SOFRI delivered the opening address.
Papers presented at the workshop covered topics ranging from country reports on the status of current fruit production, market and trade and fruit research programs and research priorities in improving tropical fruit productivity and market access. Issues including suitable cultivars, multiplication techniques and benefits, new technologies to increase production and quality attributes to enhance marketing  and regulations for the export market.
The panel discussion reiterated and reaffirmed that it is imperative to improve quality of tropical fruits in order to satisfy a growing market. This is also reflected with the emphasis given in reducing post harvest losses along the value chain, production of safe fruits and the formulation and implementation of appropriate policies. Network collaborative efforts among stakeholders are also beneficial especially in the  sharing of information and the various proven production technologies.
Participants later visited a dragon fruit farm established on ex paddy land on acid sulphate soil in Tan Phuoc District and a sapodilla farm at Chau Tanh District, both in Tien Giang Province.