by Joel Pitarch Diago, Fresh Plaza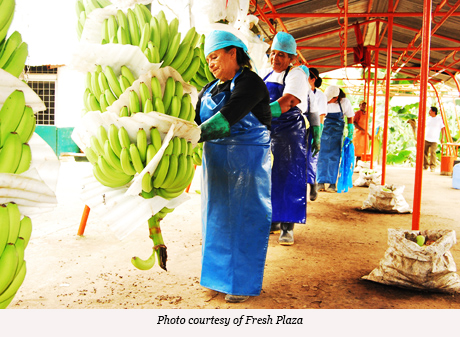 The impact of the weather phenomenon El Niño and the market growth of Central American countries led to uncertainty in Ecuador's banana sector, but "to the surprise of the export market, the situation has been much better than expected and the demand for Ecuadorian bananas gave an unexpected turn, exceeding all prospects," states Giovani Trivino, of Delindecsa.
The weather conditions are "taking a big toll" on Central and South American countries like Guatemala, Costa Rica and Colombia, which, in turn, are Ecuador's biggest competitors. As may be expected, this situation has very favourable for Ecuador's banana exports, as confirmed by the average of 70,000 boxes of bananas shipped weekly by Delindecsa, of the Manobanda group, which has more than 1,500 hectares of crops and has managed to rank among the top 15 exporters of Ecuadorian Cavendish bananas.
This rise in demand has also caused a significant increase in prices, which are expected to remain stable during the first quarter of this year, until mid-April. "While demand for Ecuadorian bananas has increased significantly, the current price is high compared to the average of previous years; a situation that is forcing 70% of the exporters to delay their banana shipments," confirms the representative of Delindecsa.
"Despite all the problems in the banana industry, importers such as Russia, the U.S. and Asia continue to lead the market and invest on it, particularly on the Ecuadorian fruit, which is still regarded as the highest quality product worldwide. Customer demands have developed considerably in recent years, and delivering a quality product must go hand in hand with a personalised and prompt service in order to meet their expectations," stresses Giovani Trivino.