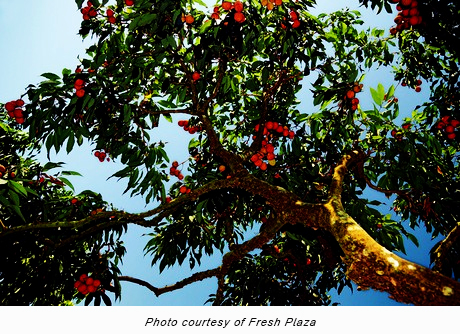 "The Hainan seedless lychee will be ready for harvest in one week. Some regular clients have already placed orders. At the same time we need to pay close attention to the growth and ripening of our crop. Therefore our schedule has been very busy these weeks," explains Ms. Zhang Li from Hainan Luqiao Agriculture and Farming Development.
"Our seedless variety is not entirely new. We select from lychee seedling rootstock which we find on Hainan. The seedless lychee exists in nature, and is the result of evolution by natural selection, not breeding. On Hainan, there are wild seedless lychee tree branches that are over hundreds of years old. The flowers can grow into seedless lychee without pollination, which is known as parthenogenesis."
Compared to regular lychees, seedless lychee trees have relatively low yields. Their yield is estimated to reach around 40% of the yield of ordinary lychee trees. The fruit is listed on the market around the beginning of June, and is only available for 25 days. This year, the harvest is late due to coldness in early and late Spring. Most seedless lychees grow in pairs. They have a thin skin and firm flesh, with a high sugar content level.
"The shelf life of the lychee is only three days at room temperature. In Hainan, however, summer temperatures can go up to 38-39 degrees. In order to better preserve the quality of the fruit, the growers often pick the seedless lychees from the tree at 1-5 am, at a temperature of around 15 degrees. When the temperature of the fruit is brought down to 3 to 5 degrees, the product will be shipped out across China."
Most Hainan seedless lychees varieties come from Chengmai County. Because its located close to volcanoes, the soil is rich in selenium. This benefits the growth of vegetables and fruits.
"Our company was started in 1997. We have constructed seedless lychee plantation & demonstration base of 347 hectares in Qiaotou town, Chengmai County. In addition, we have a plant base of 133 hectare in Guangxi, and another 20 hectares in Guangdong and Fujian province. Our company picks the seedless lychees from the tree only when they are 90% ripe. After picking them up in the early morning, all the fruits are sent to a 6,000 square meters packing centre, of which over 3,000 square meters are air-conditioned."