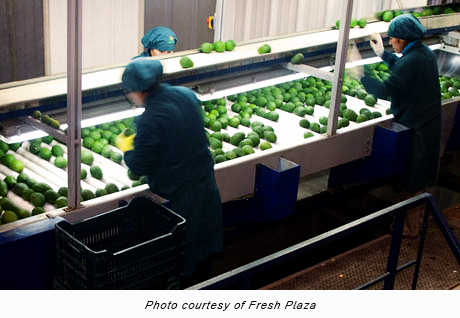 Peruvian avocado exports may increase by 10% this year, according to the General Manager of ProHass, Arturo Medina Castro. "Although we are only 35% into the campaign, we estimate that we will be exporting an average of 180,000 tonnes of avocados, of which 60% will go to Europe, 30% to the US and 10% to Canada, Central America, Chile, China and Japan. Although the weather has affected the fruit's calibres, many of our partners are hoping for at least 23% dry matter, which would guarantee the good quality of Peruvian Hass avocados."
These estimates have been changing in recent weeks, mainly due the higher prices that the United States has started paying for Peruvian avocados, which are making it an increasingly attractive market for Peruvian exports. "Initially, we estimated that 70% of the fruit would be intended for Europe and only 20% for the US, but with the price increase in the latter, many producers are considering shipping more to North America, while trying not to neglect other markets," corroborates Medina Castro.
"It is worth stressing that we started exporting to China and Japan last year, even though the agreement came when we were finishing the campaign, so we could only ship 5 containers; this year, however, we plan to enter strongly, but cautiously. We want to export at least about 300 containers to Asia, as our avocados are being very well-received. In September, when the campaign comes to an end, we will have the exact figures showing how much we managed to export to that market," concludes the representative of ProHass.