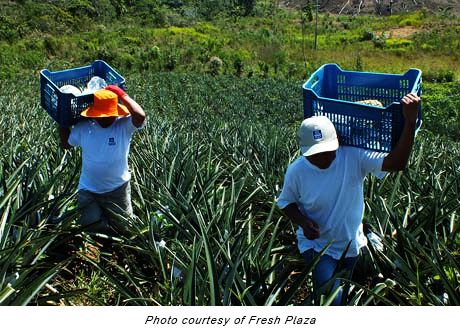 Storms and winds in the Peruvian jungle at the beginning of September did not affect the quality of the fruit and vegetable production. Elizabeth Cruz, from Agroexport Ucayali, reported that, "The hurricane force winds in Iquitos had implications for agriculture, but we don't yet know how great. This area mainly produces bananas, pineapples and aguaymanto. We had no damage in Ucayali. There were rains but in the usual amount. The area where our pineapple and banana crops are located is somehow protected and isolated from the winds."
"Currently, we are in full production of pineapples, and we are noticing that there's been a significant increase in volumes, as a result of the favourable weather we've had so far. However, we have to be alert to the weather changes that could come. In addition, we are implementing more sophisticated agricultural techniques that have allowed us to improve the quality of our fruit. This campaign we have pineapples that have 16 degrees Brix, which is much more than what they usually have," she said.
Agroexport Ucayali has a proactive attitude and is now targeting the Chinese market. In meetings with their investors, they decided to start marketing added-value, processed products. "We are starting to produce products that can be used as dietary supplements for people that are intolerant to gluten and sugar, such as pineapple syrup and banana nectar. We know these products are very popular in China, so we see a good business opportunity. Though we are still in the certification process, it should only be a matter of a couple of months before it's a reality," concluded the spokesperson.
Source: Fresh Plaza