Bojonegoro (beritajatim.com) – Hundreds of people looked happy. Despite the long wait, their spirits were not dampened as they awaited the loads of salak that will be paraded.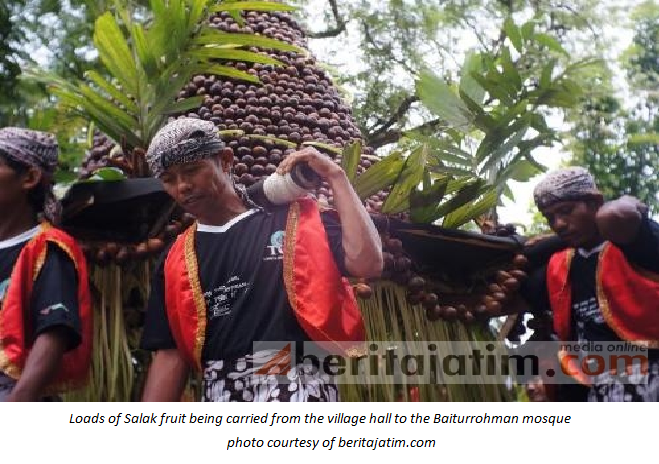 The loads of approximately four meters high was made with a pile of hundreds of the fruits. This was the people's great pride as the parade was held at Wedi countryside, Kapas District which normally was held at Agrowisata salak.
Economic communities around the Wedi countryside had grown salak for the utilization of the plant. The village of Wedi, from the beginning, had been famous for the plant. Almost every house there has a salak plant. But has not been managed optimally.
As what the Wedi countriside society did today, Thursday (01/26/2017). Salak Festival was held to commemorate the first planters at a specific district.
The festive feeling was felt as  six people begin to bear the load of fruit of as high as 4 meters. It took about 30 thousand pieces of the Salak fruit to make the load. The black fruit was donated by local residents. They paraded the loads from the village hall to the Baiturrohmani mosque .
"The parade from the village hall to this mosque was a form of the importance of unity among scholars and government", said Festival Committee Chairman Salak, M. Subkhan.
Besides the salak carnival, There were also discussions with various agencies to talk about the history of Wedi salak, and the idea of ​​a number of public figures to expand the endangered Wedi salak.
"We hoped that with this festival being held, the community will preserve the salak plant which is facing extinction. salak trees has started to be cut down." he explained.
One of the innovations was the usage of salak as basic ingredients into a variety of food. By the creative hand Dasawisma Wedi village, salak can not only be enjoyed in the form of fruit, but as means of ingreadient for local diets such as by making salak curry, salak dodol, salak pudding, flower pollen, salak chips, fried salak, salak coffee, and many more.
"All the food had the salak flavour, akin to the fresh fruit," explained Dasawisma RT 13 Desa Wedi, Erna (34).
Characteristic of this Wedi salak, accourding to him,  had a sour, sweet and slightly astringent taste. However the slightly sour Wedi salak were not so popular. However, according to him, had its own characteristics.
He also hoped that a Salak Agro tourist village would be initiated, so that the sales of Salak can be more in demand. "Moreover, each RT Dasawisma have got their own Salak cooking style," he concluded.
Source: beritajatim.com, written by Tulus Adarrma