JOHOR BARU: The inflow of tourists from China into the country is a positive sign for the tourism sector but the trend is proving to be a double-edged sword in driving up the price of the King of Fruits, durian.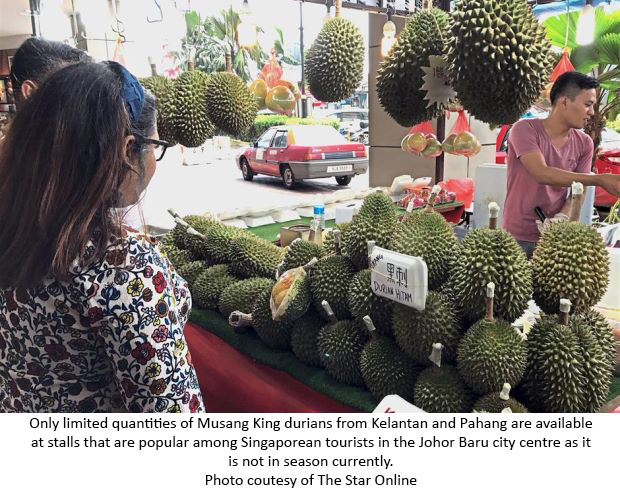 Desaru Fruit Farm director Alice Tong said the first thing Chinese tourists usually look for when they arrive are durian, specifically the popular Musang King variety.
Although they get air-flown durian in China, the fruit here is fresher and more fragrant, tourists said.
Tong said her farm saw a huge increase of about 50% in Chinese tourists from areas like Harbin, Guangzhou and Shenyang in the past three to four years.
She welcomes about 20 to 30 busloads of tourists each week.
"Their love for tropical fruits like durian could be the reason why Musang King can easily command between RM60 and RM90 per kilo nowadays compared to three years ago.
"Back then, Musang King were selling at RM30 and people were already complaining," she said when interviewed.
Tong added her durian trees had just began to flower and it usually takes about 120 days to bear fruit, adding that the durian season would be slightly later this year because of the weather.
She said the season would peak in July after starting in the end of May and continues until August.
Besides durian, tropical fruits such as mango, pineapple and dragon fruit are also a hit among Chinese tourists, she said.
Checks by The Star at some durian stalls in the city that are popular with Singaporean tourists showed that Musang King from Segamat in Johor are selling at RM60 per kilo, Pahang durian of that variety costs RM73 per kilo while the fruit from Kelantan is the cheapest at RM48 per kilo.
One of the persons in charge at Pontian's Leisure Farm Toh Cheng Hock said that the price of popular durian breeds such as Musang King are now so high that customers would question if they are sold for below RM60.
He said a durian's flesh and flavour depends on the age of the tree and also the type of soil.
"Our trees are younger so we are able to sell the durian at about RM50 to RM60 but customers are used to the expensive price of Musang King and are sceptical about the quality of the fruits if they are priced cheaper," he added.
Toh said he would still recommend local kampung durian that cost about RM14 to RM15 per kilo compared to the popular breeds.
"The popular breed durians like Musang King, 101 and D24 are thick, fleshy and creamy and consumers usually cannot take too many pieces due to its richness.
"The kampung durian are smaller and lighter in size so people can eat more of them," he said.
Sourced from The Star Online, written by Yee Xiang Yun