A one-day field trip was organized by the Fijian Ministry of Agriculture (MOA) on October 25 for the delegates of the 2017 International Symposium on Tropical Fruits (ISTF). The itinerary includes various locations of interest that feature Fiji's tropical fruit industry, including a nursery, a model farm, a wet market, and an export facility.
Nature's Way Cooperative
Nature's Way Cooperative (NWC) was the first stop of the field trip. NWC is a registered cooperative owned and operated by the Fiji fresh produce export industry. It was established in 1995 to perform mandatory quarantine treatment for fresh produce that can host fruit fly.
Over the last 15 years, NWC's treatment facility has grown from processing 30 tonnes of papaya per year to 1,300 tonnes of papaya, mango, breadfruit, and eggplant per year. The growth is largely due to its increase in members. Currently, NWC has over 140 members and shareholders made up of farmers and exporters from the public and private sector.
As a cooperative, NWC treats and packs fruit on behalf of its farmer members for a small fee. The fruits are then sold to exporters, who are also members of NWC.
Participants of the ISTF2017 were given a tour of NWC's treatment facilities, including a free taste of the famous Fiji red papaya variety.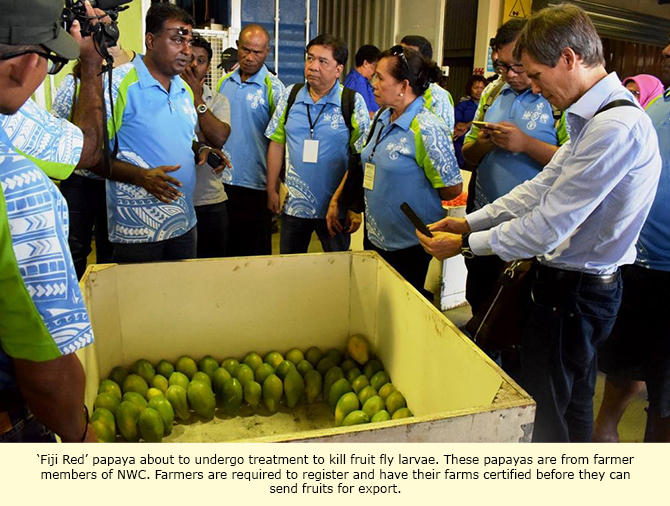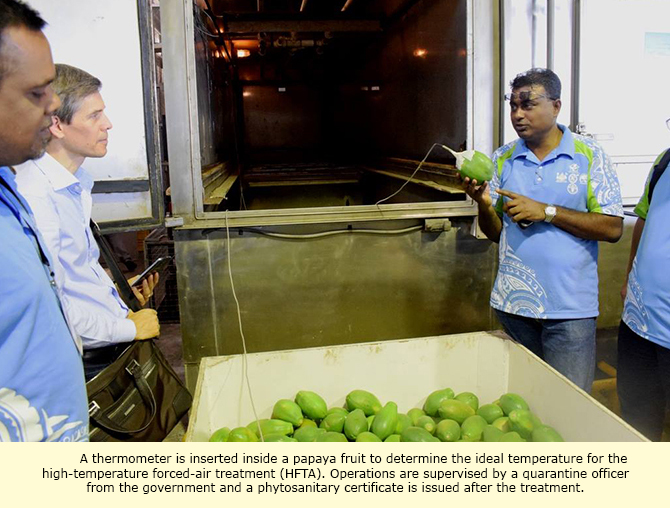 Bula Agro Enterprises
The next stop of the field trip is Bula Agro Enterprises, a private nursery near the Nadi International Airport. The nursery provides seedling of various fruits and vegetables to neighbouring farms in Nadi. The nursery is owned and managed by Sant Kumar, a former senior director of the Fijian Ministry of Agriculture.
Fiji often suffers strong cyclones that destroy precious seedlings in nurseries. One of Kumar's innovations is the 'disaster mitigation container', which is a freight container that safeguards seedlings of various crops during extreme weather events. Each container is reported to have the capacity of holding approximately 10,000 seedlings.
After the tour, participants were given the opportunity to taste the various local fruits in Fiji, including mango, soursop, breadfruit, New Guinea walnut, watermelon, pineapple, starfruit, papaya, and several types of banana.
Sigatoka Wet Market
After visiting the nursery, participants we taken to the wet market in Sigatoka to witness the local marketing dynamics of Fijian horticultural produce.
Tree Planting Campaign
After visiting the wet market, the participants headed to the Lawai Village in Nadroga to launch the 'Plant a Fruit Tree for Fiji's Health and Wealth' campaign. During his speech, MOA Deputy Secretary General Uraia Waibuta stressed the importance of fruit trees to improve the nutrition of people living in rural communities. The campaign will contribute towards MOA's commitment to food and nutrition security and the development of Fiji's fruit industry.
Waibuta also commended TFNet for spearheading the One Million Fruit Trees Planting Campaign and hoped that both campaigns could work together to improve the food security in Fiji and provide livelihoods for smallholder farmers.
Sigatoka Research Station
After the tree planting, the participants were invited to have lunch in MOA's Sigatoka Research Station. The staff prepared a wonderful traditional Fijian lunch with dishes like roasted breadfruit and root crops, 'kokoda' (similar to ceviche, made with mahi-mahi and coconut milk), 'palusami' (taro leaves cooked with coconut milk), and other assortments of chicken, seafood, fruits, and vegetables.
Model Farm
The final stop of the field trip was the model farm managed by the Technical Mission of the Republic of China (Taiwan), located at the West bank of the Sigatoka River. The facility and its projects are funded by the Taiwan International Cooperation and Development Fund (TaiwanICDF) to promote vegetable production, marketing extension, and capacity building.
The facility is developing different fruits and vegetables such as guava, dragonfruit, jujube, passion fruit, sweet potato, bell peppers, and cherry tomato using cutting-edge cultivation techniques.
Recently, the facility released the 'Green Pearl' guava variety for commercial production. One fruit can reportedly weigh up to 1 kg and has a sweet taste and very crunchy texture. Branches of mature Green Pearl trees are grafted onto rootstocks of local guava varieties that thrive in Fiji's climate. The result is a fast-growing guava tree that can produce fruit in merely 6-8 months after planting.
Aside from guava, the facility also plans to release commercial varieties of dragonfruit in 2018 and jujube in 2019.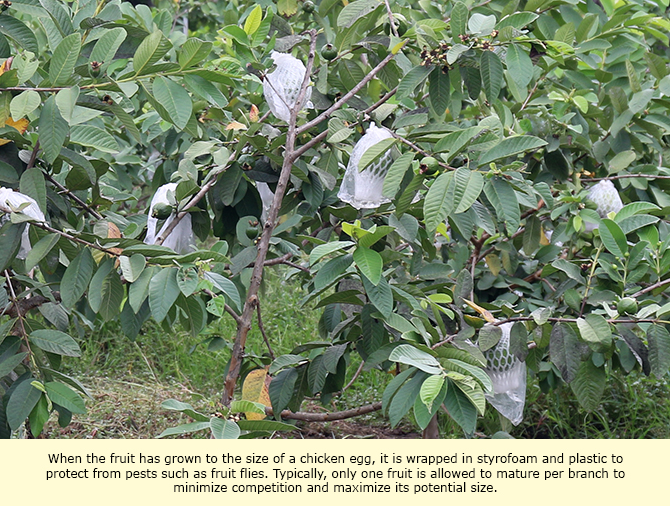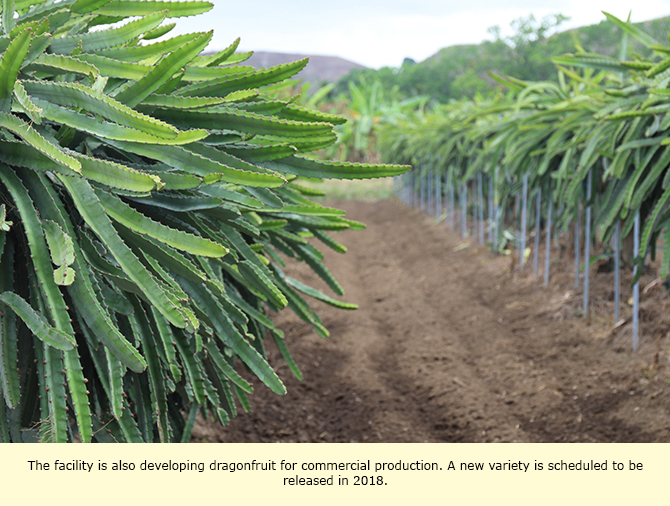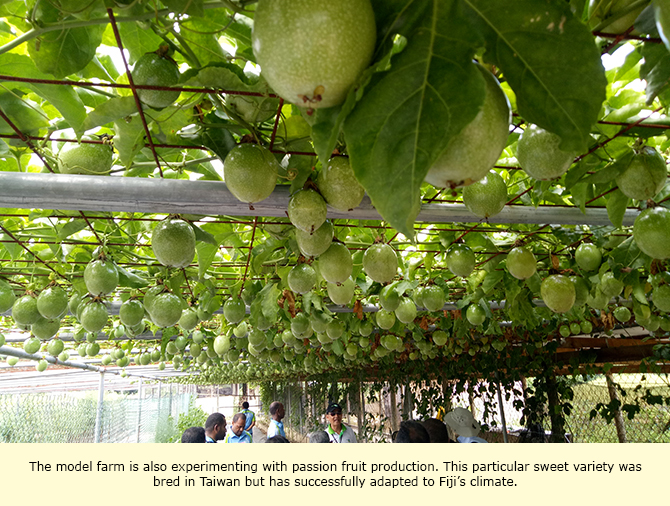 Written by Christian Cangao