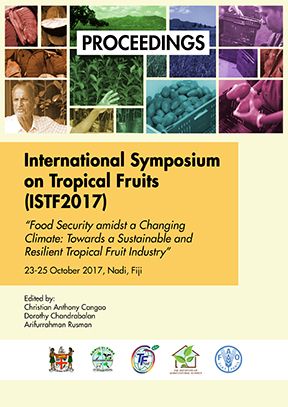 The Proceedings for the 2017 International Symposium on Tropical Fruits (ISTF2017) is now available to download at the symposium website: http://www.itfnet.org/istf2017/proceedings.php
ISTF2017 was held in Tanoa International Hotel, Nadi, Fiji on 23-25 October 2017, organized by the Fijian Ministry of Agriculture (MOA), International Tropical Fruits Network (TFNet), and Fiji Institute of Agricultural Sciences (FIAS), with support from the Food and Agriculture Organization of the United Nations (FAO).
Bearing the theme "Food Security amidst a Changing Climate: Towards a Sustainable and Resilient Tropical Fruits," the symposium aimed to assemble the latest scientific research, technology developments, best practices, and product innovations that support the transformation of the tropical fruit industry to be resilient to climate change.
Eighty-two participants from 11 countries attended the symposium, including Australia, China, Fiji, Indonesia, India, Italy, Malaysia, New Zealand, Philippines, Taiwan, and Vietnam. Participants represented various stakeholders such as smallholder farmers, international organizations, government agencies, academic and research institutions, fruit experts, and the private sector.
Twenty-one oral presentations were delivered in 5 sessions that encompassed 5 major topics, which are climate change impacts, adaptation, and mitigation; crop protection and pest and disease management; crop diversification, varietal improvement, and biotechnology; postharvest, product development, and utilization; and farmer support, extension, and policy interventions.
During the wrap-up session led by Pascal Liu, it was concluded that there is a need to incorporate natural disasters into business plans, strategies, and policies. The capacity of farmers to develop production systems that are resilient to climate change should also be strengthened. Lastly, development initiatives should exercise the spirit of kotahitanga or "coming together as one" at the local, national, regional, and international levels.