The South African government is strengthening the regulatory framework to prevent and combat the spread of the Oriental fruit fly within the country.
The Department of Agriculture' Forestry and Fisheries (DAFF) is alerting individuals' municipal authorities' traditional authorities' community members' farmers' fruit and vegetables industries and universities about amended Control Measures which have been gazetted.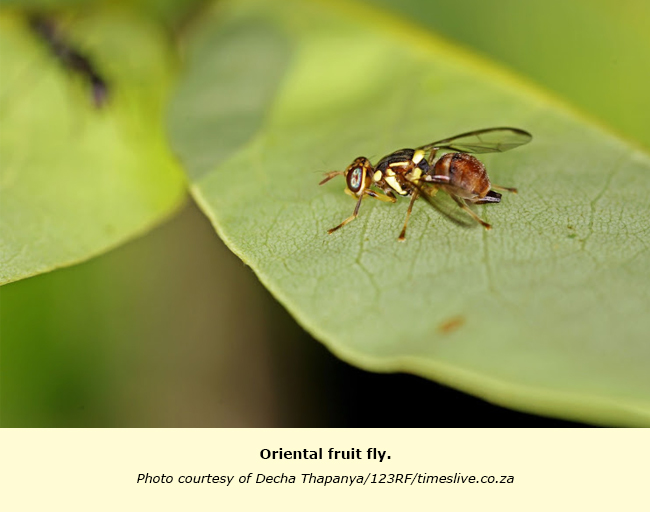 Areas infested with the Oriental fruit fly in South Africa are: Limpopo' Mpumalanga' North West' Gauteng and some parts of KwaZulu-Natal' the department said.
"A removal permit will be required to move fruit from these areas to the Oriental fruit fly free areas'" the department said.
Areas that are not infested include the Western Cape' Northern Cape' Eastern Cape' Free State and some parts of KwaZulu-Natal such as the Magisterial Districts of Amajuba' uMgungundlovu' uMzinyathi' uThukela and Zululand.
"However' it should be noted that should the pest be detected in a farm within the pest free areas' such a farm will be quarantined in terms of an official order and a removal permit will be required to move host material to a pest free area'" said the department.
In terms of the existing Control Measures regulations' no person in South Africa is allowed to move any Oriental fruit fly infested fruit or material from an infested area to a non-infested area without authorisation by means of a removal permit; any unauthorised movement may lead to the spread of the Oriental fruit fly.
For further details on how to remove the fruit flies call 012-309-8735 or e-mail RemovalPermits@daff.gov.za
The FreshPlaza website reports that the Oriental fruit fly (Bactrocera dorsalis) is a mango and citrus pest. It was first detected in East Africa in 2003' reaching the northern parts of South Africa approximately seven years later. By 2012 it was confirmed in Mpumalanga where much of South Africa's subtropical fruit industry is based.
Overripe fruit on mango trees in home gardens are providing an ideal habitat for the fruit fly' according to the site.
Source: Times Live