New Zealanders love bananas and a new venture on the East Coast (Te Taraiwhiti) hopes to capitalise on that appetite.
Taxpayer funds of $93,455 have been given to help develop a banana growing industry centred on Gisborne.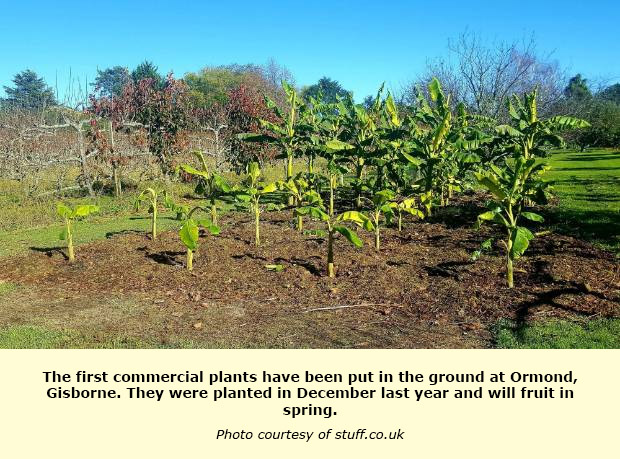 Bananas are the most popular fruit in New Zealand. Statistics NZ data shows we import about 18 kilograms per person, or 87.5 million kgs total, a year. Assuming an average price of $2.78 in the past year, that works out to $50 a person, or a total spend of about $240 million a year.
Most of them come from Ecuador, followed by the Philippines, Mexico, Panama and the United States.
Households spend an average of $88 a year on them, a long way ahead of closest rivals apples at $61 a year.
There is already a thriving banana growing business in Northland, where they are sold at farmers' markets for $5 a kg to consumers who claim the taste is superior to the imported Cavendish variety.
Now the Ministry of Business Innovation and Employment has granted Gisborne-based management consultancy company Tai Pukenga $93,455 funding to partner with AgResearch on a project to develop tissue cultures for growing banana crops, and the genotyping of cultivars.
Tai Pukenga banana project manager Trevor Mills said enthusiasts in the Gisborne region had been growing bananas for decades. "Guru" Rodger Bodle, now 89 years old, has dedicated more than 40 years to trialling bananas and would be a technical adviser.
"We were inspired by what the Northland growers were achieving. It rekindled my and Rodger Bodle's passion at having a go to try and get enough finance behind us to nail the commercial banana idea," Mills said. He himself has grown them for 20 years.
A financial study carried out by the Northland Polytechnic estimates that 1108 plants per hectare will produce 10kg of bananas per stem which at a minimum of $3.00 per kg will return $30,000 per hectare after around two years.
Chairman of Tropical Fruit Growers New Zealand and Parua Bay farmer Hugh Rose said it was possible to have a cash crop within two years of planting. Growers sometimes planted them alongside avocados.
"You get a few in the first year but usually it's two years, whereas avocados take between four to seven years before they start cropping."
Rose said the Northland growers would "love" to send bananas to Auckland but everything they produced was bought on the local market.
A sheep and beef farmer, Rose said he advised dairy farmers to grow bananas as a feed and nutrient pollution solution. They produce 13 tonnes a hectare of dry matter, compared to 14.5 tonnes for ryegrass.
"I often say to dairy farmers why are you bringing in palm kernel when you could be planting out your shit pond with bananas? You've got a brilliant plant which sucks up all the nutrients and in winter you harvest the stems and feed them to cattle."
Heading the project are AgResearch scientists Dr Jane Mullaney and Dr Wajid Hussain, the latter an expert in tissue culture methods and development of methods which will produce the banana plants.
Mullaney said bananas could be grown outside the tropics, for example Israel had a small industry. They could survive frost, so long as it did not stay cold for very long and the frosts were not too severe.
"In Northland they are all sold locally and they can't meet the demand. The fact they are local, are unsprayed and taste better than imported varieties are some of the attractions."
When imported bananas arrive in the country they are green and have to be sprayed with ethylene to be ripened. Ethylene is a natural gas and presents no food safety issues.
Mills said availability of plants would be an initial problem. Each plant produces 3-4 suckers so 100 stems will produce 300-400 plants in about 12-18 months. Plants could be produced by tissue culture methods or sourcing suckers from established clumps around Te Tairawhiti.
The plants could be grown in a variety of soils, although they did better if they were fertilised. They also did not require irrigation. Rose said he mulched them with plant chips as a "common sense thing" to keep the weeds down.
Mills agreed with Rose that bananas worked in well with other crops, giving the example of a persimmon grower in Gisborne who wanted to supplement his variable persimmon income.
The Auckland Farro Fresh chain had indicated its interest in taking the Te Taraiwhiti bananas. Mills predicted they might be in stores in two years' time.
Source: Gerard Hutching, Stuff