Durian lovers are enjoying a glut of the King of Fruits brought on by the prolonged durian season since March, which has slashed prices by up to 40% compared to last year.
Durian trader Ang Hock Leng said this was his first experience in seeing such an early and extended season.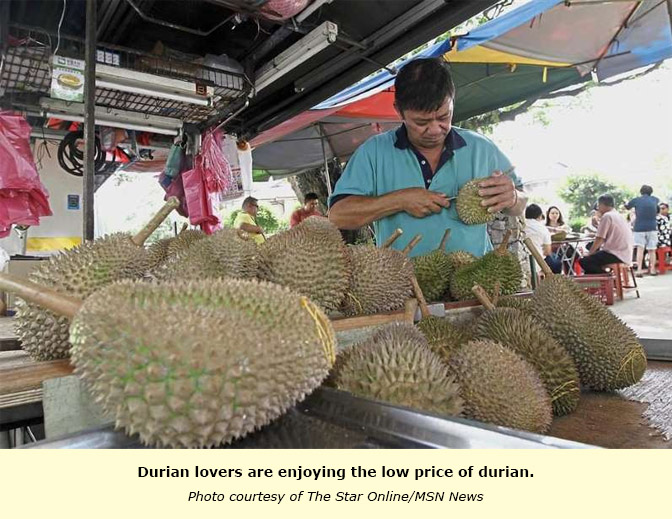 "This is one of the cheapest in terms of durian prices in recent years, with the Musang King sold at about RM45 (USD 11) per kg compared to RM80 (USD 19) to RM90 (USD 22) per kg last year.
"A durian season usually lasts for three months from April to July, but this time we are seeing a bumper crop compared to last year.
"It is probably due to the change in weather as the suitable weather this year allows the durian trees to flower.
"The bumper season in Penang could last till next week, but there are still a lot of durian supplies from Pahang, Perak and Johor," said Ang at his stall in Jalan Anson.
Ang, who has been selling durians for more than 30 years, said durian varieties such as Ang Heh is priced between RM15 (USD 3.70) and RM30 (USD 7.40) per kg, while the Black Thorn and Green Skin are priced from RM45 (USD 11.10) to RM70 (USD 17.25) per kg and RM15 (USD 3.70) to RM28 (USD 6.90) per kg respectively.
Bao Sheng durian farm owner Tan Yen Kim said this year's harvest was one of their largest.
"This year, everyone's orchard bore fruit. Last year, one tree bore only a handful of durians due to the weather. Some farms had fewer than 100 durians.
"The harvest was not exceptionally big, but there was a lot of supply because the season was longer this time," she said, adding that the durian season was nearing the end at their orchard.
Over in Subang Jaya, durian lovers were seen snapping up the fruit in basketfuls is due to the low price.
Some stalls sold the Musang King for as low as RM28 (USD 6.90) to RM30 (USD 7.40) per kg.
Source: Chong Kah Yuan, MSN News