International Tropical Fruits Network (TFNet) jointly collaborated with the Food and Agriculture Organization of the UN (FAO) office in the Kingdom of Saudi Arabia to organize a study tour of the tropical fruit development programmes in Malaysia on 1-12 March 2014.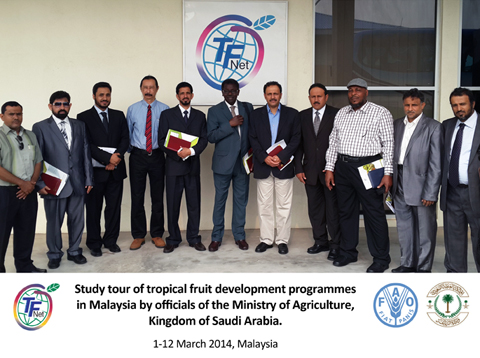 Participants of the study tour were 9 officials from National Agriculture and Animal Resources Research Center, Ministry of Agriculture, Saudi Arabia and a representative from FAO, Saudi Arabia. The 10-man team was headed by Assistant Director General Abdallah Saleh Alhotan of the National Agriculture and Animal Resources Research Center, Director General Ali Abdallah Aljaleel of the Najran Horticulture Research Center, and FAO Saudi Arabia Chief Technical Advisor Dr. Hassan M. Ali-Dinar.
The objectives of this study visit were to:
Assess the technologies to improve productivity of tropical fruit crops especially mango, in Malaysia
Learn about the research directions and priorities in developing the Malaysian fruit industry
Study the value chain enhancements and commercialisation of tropical fruits for the domestic and export market.
Discuss with relevant parties on the potential of joint collaboration in tropical fruit improvement programs.
The Asia and Middle East Food Trade Journal reports that sales of fruits and vegetables in Saudi Arabia was worth USD 1.4 billion in 2011, a 12% growth over 10 years. The demand is fuelled by growing household income, increasing health concerns, and urbanization trends.
With the high demand for fruits and vegetables, the country has been making intensive steps to reduce the dependence on imports by developing the agricultural sector. However, it is a constant challenge to grow introduced crops in an arid climate.
"We have learned a lot about Malaysian fruit production in this visit," said Ali after the study tour. "We really need capacity building for our people. I wish we can coordinate in the future with TFNet, Malaysian research centers, and private institutions," he added.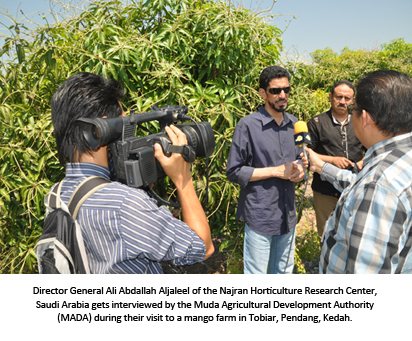 Field Visits

For the first day, participants were given a briefing at the TFNet Office before visiting the Business Development Centre of the Ministry of Agriculture and Agro-based Industries. They later attended briefings at the Department of Agriculture (DOA) office and  the Malaysian Agricultural Research and Development Institute (MARDI), including a visit to a carambola (under netted structure) trial plot.
The participants spent the rest of the tour visiting a mango farm under the Muda Agricultural Development Authority (MADA) in Kedah, the Sime Darby guava plantation and processing center and the Department of Agriculture's Lekir Agriculture Station chokanan mango farm in Perak, the largest jackfruit farm in the country under the Department of Agriculture in Pahang, private guava and dragon fruit farms in Johor and an agrotourism fruit farm in Penang.
Technical Meeting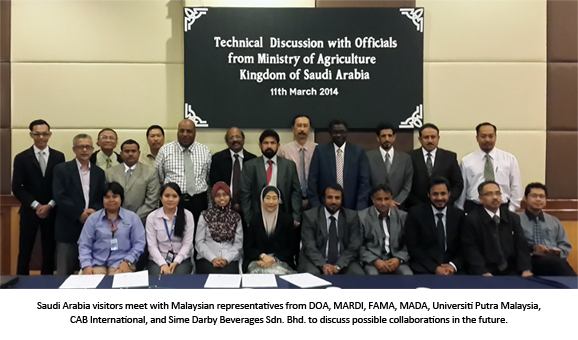 A discussion was held in Putrajaya on 11 March 2014 with the Saudi Arabia visitors, TFNet, and Malaysian representatives from DOA, MARDI, Federal Agricultural and Marketing Authority, MADA, Universiti Putra Malaysia, CAB International, and Sime Darby Beverages Sdn. Bhd.
The meeting aimed to synthesize and reflect on the experiences during the visit, as well as discuss possible areas of collaboration between Malaysia and Saudi Arabia.
"Saudi Arabia wishes to collaborate with Malaysia in 3 pillars. Mainly training, exchange of plant materials, and international consultancies," said Dr. Hassan. "We want expand our germplasm collections for research. We also need a database of expert on areas such as plant protection and postharvest," he added.
For training, UPM representative Dr. Adam Puteh said that the university offers both postgraduate courses on agriculture and short courses. MARDI representative, Dr. Zabedah, also confirmed that the research institute offers short technical courses.
On technical issues, the meeting also discussed the mechanization of mango seed extraction and harvesting, jackfruit production and consumption, fruit fly control, intercropping pineapple with tree crops, control of fruit bats, and minimum residual levels of chemicals in fruits.
Future collaborations with TFNet
Saudi Arabia assured that they join TFNet as a Country Member before May 2014. As a member, Saudi Arabia will be invited to future TFNet activities such as meetings, workshops, and conferences. The representative from Saudi Arabia also said that they will try to invite other gulf countries including Oman and Yemen to join TFNet.
TFNet, FAO Saudi Arabia and the Ministry of Agriculture, Saudi Arabia are planning to organize a 3-day mango workshop on the 2nd or 3rd week of May 2014, during the Saudi Arabia Mango Festival. It will address concerns on efficient water management practices, sustainable fruit tree cultivation in arid land, pest and diseases management, integrated pest management, best postharvest practices, competitiveness and profitability, and introduction of other tropical fruit species. Participants will be from gulf countries and North Africa including Saudi Arabia, Yemen, Oman, United Arab Emirates, Sudan, and Egypt.
TFNet was also requested to organize study tour in Malaysia for date palm researchers from Saudi Arabia who are interested in the Malaysian oil palm development programmes, especially on field management, pest management and the processing of trunks and leaves. This visit is scheduled for the 1st week of May.