COLOMBO, SRI LANKA: Centre on Integrated Rural Development for Asia and the Pacific (CIRDAP) and Hector Kobbekaduwa Agrarian Research and Training Institute (HARTI) jointly organized an international workshop on 'Reduction of Postharvest losses in Fruit and Vegetable Supply Chains' on 17-20 March 2014.
The workshop was officially opened by Honourable Minister of Agriculture H.E. Mahinda Yapa Abeywardena. There were 35 participants comprising officers from government agencies and the private sector.
Objectives of the workshop were to:
Identify common practices that result in substantial postharvest losses in fruits and vegetables in participating countries
Share information on implementation programmes on practices to mitigate postharvest losses in fruits and vegetables in selected countries
Assess effectiveness of current programmes to reduce postharvest losses
Prepare a road map for CIRDAP Member Counties on good practices to reduce postharvest losses.
The resource persons from different CIRDAP Member Countries delivered presentations pertaining to common postharvest losses in fruits and vegetables, experiences and lessons learned in the mitigation of post harvest losses in Sri Lanka, Thailand, Bangladash, Malaysia, Indonesia and Iran, effective seed haematic storage techniques, role of the institute of postharvest Sri Lankan, and examples of successful projects in Sri Lanka.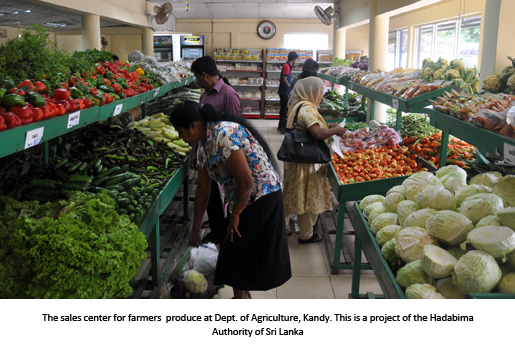 Resource persons who participated in the workshop were Dr. Somporn Hanpongpandh, market specialist and consultant from Thailand, Dr. Y. Aries Purwanto from the Center for Tropical Horticulture Studies, Bogor Agricultural University, Indonesia, Mr. Md. Gias Uddin Talukder, Project Coordinator for Helvetas, Swiss Intercooperation, Bangladesh, Dr.Murshed Salam, Allied Agro Industries, Bangladesh and Mr. Hoessein Shahbaz, Director, Pilot Project Division from CIRDAP, who represented Iran.
TFNet CEO, Yacob Ahmad was also invited as a resource person for the workshop to present a paper on 'Improving the fruit value chain to minimise postharvest losses and enhance market access'.
Resource persons from Sri Lanka were Additional Secretary, Ministry of Agriculture, Dr.Wijeratne, Dr. Mrs. SwanashikaThilakaratne, Director, Institute of Post Harvest Technology, Anuradhapura and  Mr. Haridas Fernando, Deputy General Manager, Cargills (Ceylon) PLC.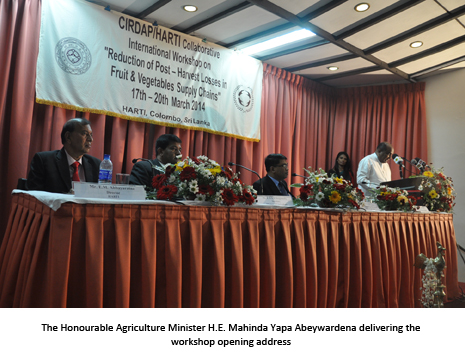 In the deliberations that ensued, the following points were noted:
That postharvest losses occur along the value chains and analysis is required to identify gaps and interventions.
That quantity and quality of fresh produce are determined by consumer demand and preferences. Market segmentation has to be incorporated in the planning and implementation of projects to reduce post harvest losses.
Glut and low prices also results in wastage and affect farmers' income. Efforts must be taken to reduce losses by processing them into value added products.
The middlemen and wholesaler also are responsible for causing substantial postharvest losses, especially during handling and loading. Losses at this stage of the value chain are even more damaging as it affects prices paid to the farmers. Even though the introduction of plastic crates in the wholesale market takes time to implement, it can reduce losses considerably.
CIRDAP will compile all papers and discussion points into a proceeding.  CIRDAP will also propose recommendations  to mitigate post harvest losses in horticultural crops at all stages of the value chain for member countries
Participants went for a field visit on 19 – 20 March to:
Hadabima Authority ofSri Lankadistrict office and project areas including farmers village collection center and sales center (Department of Agriculture,Kandy)
Tea processing plant at Embilmeegama
Botanical Gardens at Peradeniya
CIC Seeds (private company) – vegetable seed and development unit, Pelwehera Farm
CIC Cavendish banana plantation and packing  house, Pelwehera Farm
Dambulla Wholesale market of Fruits and Vegetables, Matale District, Central Province
InstituteofPostharvest Technology at Anuradhapura