The International Tropical Fruits Network (TFNet) jointly collaborated with The Agricultural and Food Marketing Association for Asia and the Pacific (AFMA) to organize a study tour on the Malaysian rice industry for officials from the Ministry of Food, Bangladesh on 22-28 June 2014.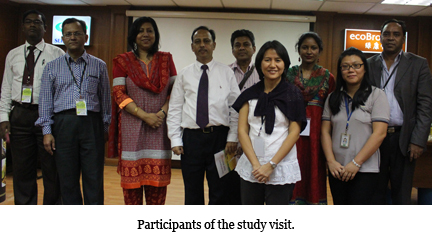 Participants of the study tour included 7 officials from the Ministry of Food, Bangladesh and 2 from AFMA, headed by Joint Secretary Khandoker Atiar Rohman.
The objectives of this study visit were to observe the grain industry in Malaysia, specifically rice in relation to policies, production, food security and food safety especially:
To acquire a practical understanding on the role of the Government and private sector in rice import/export, stock management, storage and distribution;
To learn from the agencies and decision makers involved in the country's rice production and food security policies on strategies to ensure sustainable production of the commodity;
To observe the overall rice value chain to identify the effectiveness of the different actors, including the various constraints and challenges in its implementation; and
To study the implementation of the food safety regulations by the Government in order to regulate rice quality and ensure production of safe rice products.
Visits to relevant authorities, government agencies and the private sector involved with the rice supply chain and activities include:
Department of Agriculture on policies and the National Rice Programme.
Food Safety and Quality Division (FSQD), Ministry of Health on the promulgation of regulations, enforcement of law, monitoring, research, consumer education, and promoting food safety to industry.
Ban Heng Bee Holdings Sdn. Bhd. in Pendang, Kedah. Located in the "rice bowl of Malaysia, this privately-owned rice mill showed participants how rice is milled, packaged, and transported to other places in the country.
Muda Agriculture Development Authority (MADA), Kedah. Other than visiting the rice production area, participants were also shown mango growing stations where paddy land has been converted.
Malaysian Agriculture Research and Development Institute (MARDI), Alor Setar. Participants were shown on-going research and value-addition programmes such as rice puffs and cereals.
Integrated Agriculture Development Authority (IADA). Participants were informed about the provision of agricultural infrastructure and other support services.
Padiberas Nasional Berhad (BERNAS). The BERNAS group of companies are involved in the procurement and processing of paddy, as well as the importation, warehousing, distribution and marketing of rice in Malaysia.
The participants were satisfied with the study tour programme and spoke about future collaborations with Malaysia in terms of capacity building, research, and technology transfer.