The first issue of The Fiji Agricultural Journal (FAJ), Volume 54 was released by the Fiji Ministry of Agriculture on June 2014, featuring eight research papers.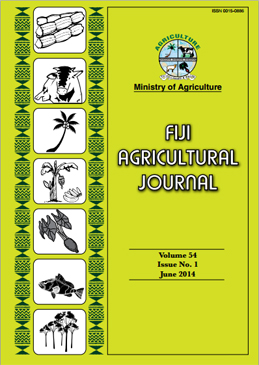 Some papers include "Neem for Sustainable Pest Management and Environmental Conservation" by Ramesh C. Saxena and "Rethinking Concepts of Human Health, Food and Nutrition Security in the Pacific Region in the Era of Climate Change with Focus on the Fiji Islands" by Erlidia L. Clark.
First published in 1928, FAJ aims to promote an understanding of agriculture, fisheries and forestry issues in Fiji and the South-West Pacific. It publishes research papers, reviews, commentaries, short notes, book reviews, conference reports, and a calendar of events.
"We encourage all TFNet members to join Fiji Institute of Agricultural Science and Fiji Agricultural Journal (FAJ) and contribute the wealth of information they have,"  says FAJ editor Ravindra Joshi.
To download the Fiji Agricultural Journal, click here.
For more information, contact:
Dr. Apaitia Macanawai
Chief Editor
Fiji Agricultural Journal
Ministry of Agriculture, Koronivia Research Station
P.O.Box 77, Nausori, Republic of Fiji
Email: apaitia.macanawai@govnet.gov.fj; apairamac@gmail.com
Tel: (+679) 3477 044
Fax: (+679) 3400 262