GUANGZHOU CITY, CHINA: TFNet CEO Dr. Desa Hassim pays a courtesy visit to Dr. Yi Ganjun, Vice President of the Guangdong Academy of Agricultural Sciences (GDAAS). Dr. Yi is also the Vice Chairperson of the TFNet Board of Trustees.
During the visit, issues and ideas on how to improve TFNet services and its sustainability were raised and discussed. An interesting suggestion is for TFNet to develop an e-business platform for facilitation of local and international trade of tropical fruits.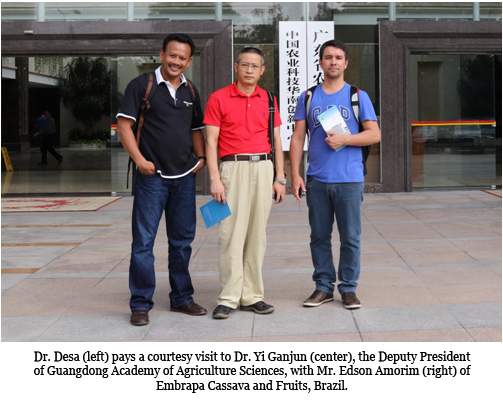 Meeting with Banana Expert from Brazil
During the visit, Dr. Desa also got an opportunity to attend a lecture and meet with Mr. Edson Perito Amorim, a researcher and banana breeder from Embrapa, Brazil.
The Embrapa banana and plantain breeding program started in Brazil on 1976 to develop commercial varieties with good yield, eating quality, and resistance to pests and diseases (particularly Fusarium oxysporum f.sp. cubense). From the breeding program, Embrapa released their own cultivars including Garantida, Japira,  Pacovan Ken, Preciosa, Tropical,  Princesa, Platina, Caprichosa, and Vitória. The latest promising hybrid will be released in 2016 are silk type BRS Princesa and prata type BRS Platina. These hybrids have a potential yield of 25-45 tons/ha while tolerant to Yellow Sigatoka and resistant to Panama disease.
After attending the lecture and meeting, Dr. Desa was accompanied by Dr. Yi Ganjun to visit the banana plantation project near Guangzhou City to observe promotion plots and banana research activities conducted by GDAAS.