TFNet CEO Dr. Desa Hassim participated in the Regional Training Workshop on Agribusiness Public-Private Partnerships and Territorial Investment Approaches for Agro-industrial Development organized by the Food and Agricultural Organization of the United Nations (FAO) and Agricultural and Food Marketing Association for Asia and the Pacific (AFMA) at the Millennium Hilton Bangkok in Thailand on 20-22 July 2016.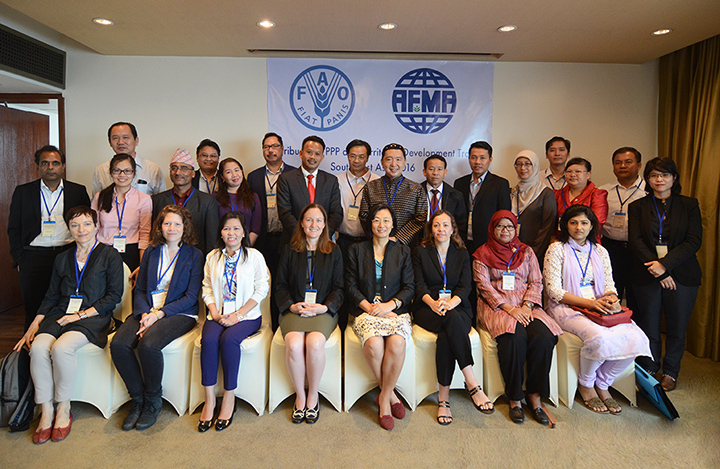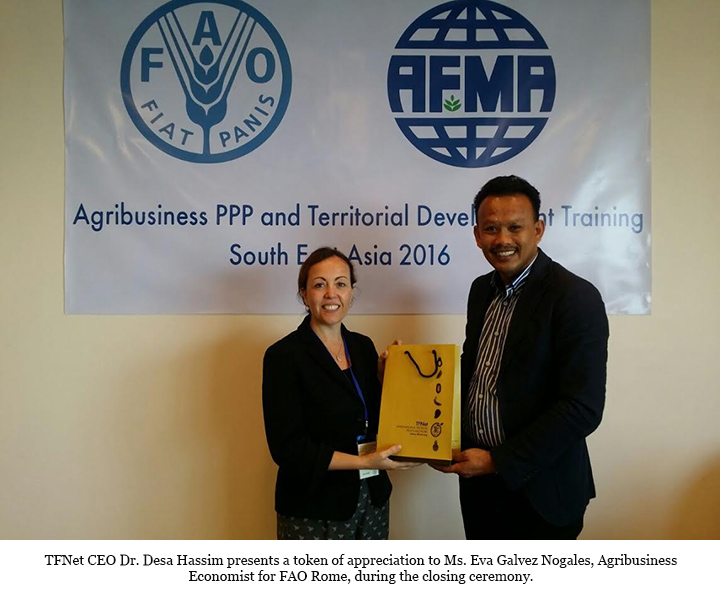 Twenty eight participants from Bangladesh, Cambodia, Indonesia, Lao, Malaysia, Myanmar, Nepal, Philippines, Thailand, Vietnam, FAO-Rome, FAO-Thailand, and AFMA presented papers and shared experiences during the workshop.
The workshop aimed on identifying the role of public sector in facilitating the transformation towards competitive agrobusiness and agro-industrial sectors. Specifically, role of public-private partnerships (PPPs) in addressing the necessary measures for the food industry and agribusiness to adapt to increasing demand, shifting consumer patterns, production challenges, and technology impacts on food systems were discussed.
The three-day workshop included seven sessions and practical group discussions. The sessions were as follows:
1. Introduction to agro-industrial investment tools
2-4. Territorially-based approaches and investment tools
5. PPPs for agribusiness development.
6. Agri-PPPs for pro-poor growth and inclusion.
7. Investment frameworks and policy recommedations.
During this workshop Dr. Desa presented a paper on "Empowering PPP's for Economic Transformation through Sustainable Fruit Production," based on Malaysia's Economic Transformation Program (ETP). The program identified 12 national key economic areas that drove economic activity: Kuala Lumpur; oil, gas and energy; palm oil and rubber; wholesale and retail; financial services; tourism; electronics; business services; communications; education; agriculture; and healthcare. The agriculture sector includes producing high value fruits that can satisfy local demand and the export market.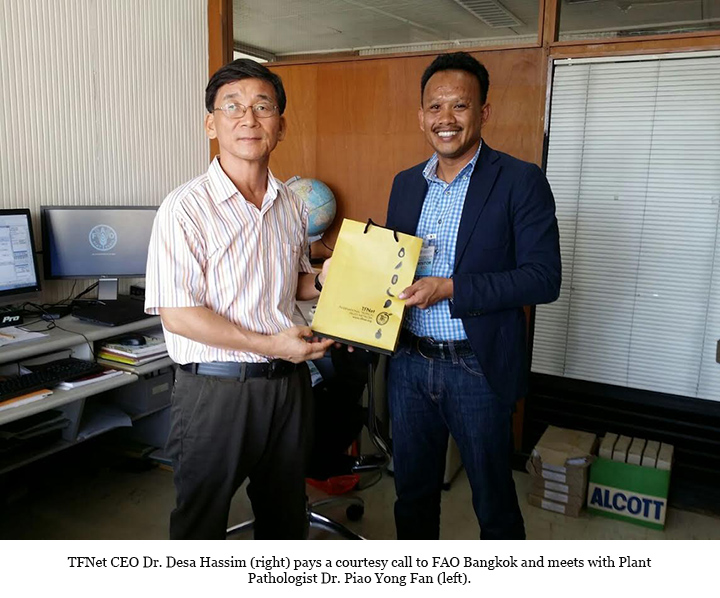 Before the workshop, Dr. Desa also paid a courtesy visit to the FAO regional office in Thailand (FAO-RAP) Office in Bangkok. He met Dr. Piao Yong Fan, Senior Plant Protection Officer, who expressed interest in a joint collaboration project with FAO, TFNet, and stakeholders on the mitigation of Banana Foc Tropical Race 4 (Foc-TR4). Dr. Desa highlighted TFNet's efforts in the past, including the global initiative on mitigation of FOC-TR4 with the FAO head office in Rome. Dr. Desa also highlighted TFNet's capacity in information dissemination and capacity building that aims to minimize the spread of the disease. Both parties expressed interest in developing a joint program on alternative banana production technologies.