The 2017 International Symposium on Tropical Fruits (ISTF2017) was held in Tanoa International Hotel, Nadi, Fiji on 23-25 October 2017, organized by the Fijian Ministry of Agriculture (MOA), International Tropical Fruits Network (TFNet), and Fiji Institute of Agricultural Sciences (FIAS), with support from the Food and Agriculture Organization of the United Nations (FAO).
(UPDATE: Powerpoint presentations and photos are available at http://itfnet.org/istf2017/)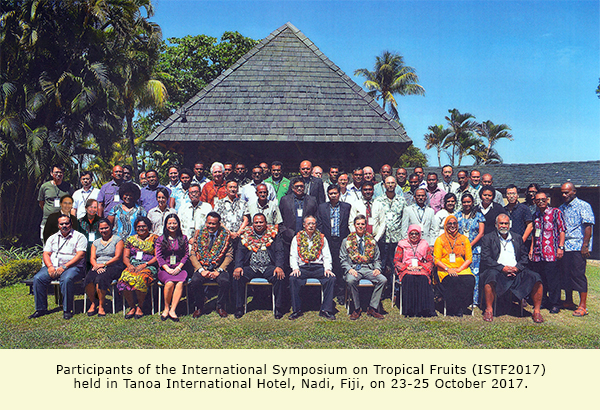 Bearing the theme "Food Security amidst a Changing Climate: Towards a Sustainable and Resilient Tropical Fruits," the symposium aimed to assemble the latest scientific research, technology developments, best practices, and product innovations that support the transformation of the tropical fruit industry to be resilient to climate change.
"It is ideal to host ISTF2017 in Fiji,'" said Inia Seruiratu, Minister of the Fiji Ministry Agriculture, Rural and Maritime Development and National Disaster Management and Meteorological Services during the opening ceremony.
He added, "Fiji has been given the responsibility to take up the Presidency of 23rd Conference of the Parties (COP 23) to the United Nations Framework Convention on Climate Change (UNFCCC). I hope the presentations and discussions during the symposium will address the effects of climate change towards the development of sustainable and resilient fruit industry around the world."
Aside from Minister Seruiratu, the opening ceremony included a welcome address from Deputy Secretary Uria Waibuta of the Fijian MOA and opening remarks from TFNet Vice Chairperson Dr. Ganjun Yi, TFNet Chief Executive Officer Dr. Desa Hassim, and FAO Representative Pascal Liu.
A global event
Eighty-two participants from 11 countries attended the symposium, including Australia, China, Fiji, Indonesia, India, Italy, Malaysia, New Zealand, Philippines, Taiwan, and Vietnam.
Participants represented various stakeholders such as smallholder farmers, international organizations, government agencies, academic and research institutions, fruit experts, and the private sector.
"We are so grateful to TFNet for choosing Fiji to ISTF 2017," said Deputy Secretary Waibuta. He added that the Symposium provides "a platform to TFNet and its partners to discuss the contributions of research, the private sector, and policy makers on tropical fruit production and food security."
Magnifying existing threats
As the Team Leader of FAO's International Investment and Tropical Fruits Food, Pascal Liu presented the keynote paper on "Socio-economic impacts of climate change on the tropical fruit industry."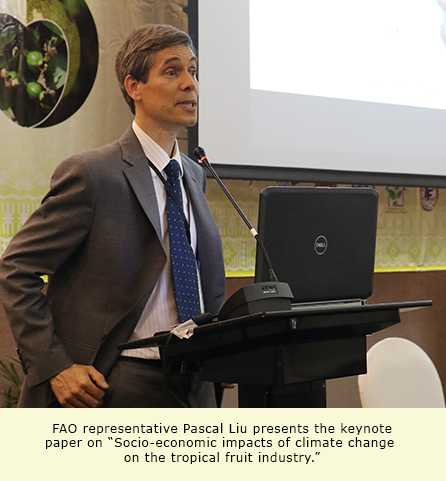 Tropical fruits are mostly grown in developing countries and generate about USD 7 billion worth of exports per year. In 2015-2016, global production of tropical fruits experienced a significantly slower growth compared to the previous decade. The decline is mainly caused by adverse weather conditions in the main producing regions.
According to Liu, climate change will exacerbate the current challenges that face the industry. The tropical region will face stronger and more frequent hurricanes while other areas will experience longer and more intense droughts and heat waves. Climate change will also intensify the spread of pests and diseases and depletion of natural resources.
"In the long run, global warming may also generate new competitors to countries that traditionally supply tropical fruits, as counties with temperate climate could become increasingly capable of tropical fruit production," he added.
Liu recommends to adapt building more resilience through climate smart agriculture techniques, disaster preparedness, and expanding domestic markets. To mitigate climate change, he recommends adopting production and trading methods that decrease the emission of greenhouse gasses and increasing the use of renewable and clean energy.
Paper Presentations
Twenty-one oral presentations were delivered in 5 sessions that encompassed 5 major topics, which are climate change impacts, adaptation, and mitigation; crop protection and pest and disease management; crop diversification, varietal improvement, and biotechnology; postharvest, product development, and utilization; and farmer support, extension, and policy interventions.
A notable presentation is from Kyle Stice, manager of Nature's Way Cooperative (NWC). NWC was established in 1995 to perform mandatory quarantine treatments on behalf of Fiji's fruit export industry.
Currently, NWC has over 140 members made up of farmers and exporters from the public and private sector. They export around 1,300 tonnes of fruit (papaya, mango, eggplant and breadfruit) annually.
Over the last 15 years, NWC has grown from a small business handling just 30 tonnes of papaya to an agribusiness treating 1,300 tonnes of fruit (papaya, mango, eggplant and breadfruit) annually for export. However, typhoons and other climate extremes have reduced exports to as low as around 500 tonnes in 2016.
In response to climate extremes, NWC has included natural disasters into budget allocations. Production areas have also been spread into different areas of Fiji, which are planted more frequently in smaller scales. Moreover, papaya seeds are stocked to quickly recover from natural disasters.
Simple yet effective measures have also been done before and after a cyclone hits Fiji. For instance, papaya leaves are removed before the cyclone to reduce the chances of trees from breaking due to strong winds. However, fruits are left exposed to the sun when leaves are removed. To protect from sun damage, the papaya fruits are covered with a cloth.
Other notable presentations include adapting to climate change effects in Vietnam and India, managing pests and diseases in bananas, mangoes, and citrus, diversifying crops by tapping underutilized species, breeding resilient and high-yielding fruit varieties, and training farmers.
Recommendations and the way forward
FAO's Pascal Liu led the wrap-up session of the symposium. He invited the chairman of each session to provide recommendations based on the papers presented, which were vetted by the participants.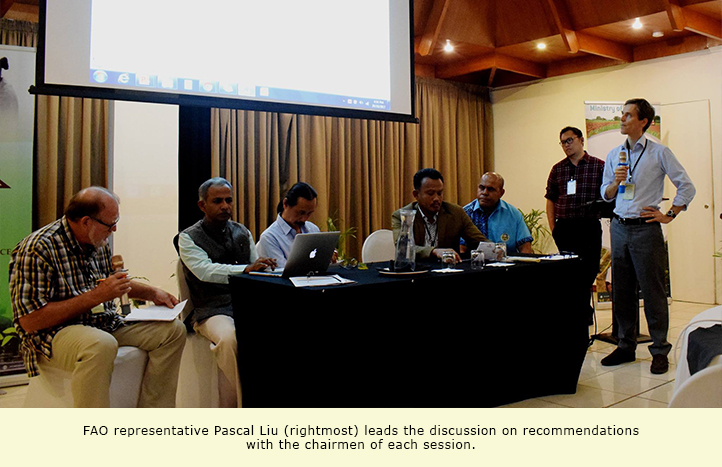 It was concluded that there is a need to incorporate natural disasters into business plans, strategies, and policies. The capacity of farmers to develop production systems that are resilient to climate change should also be strengthened. Lastly, development initiatives should exercise the spirit of kotahitanga or "coming together as one" at the local, national, regional, and international levels.
Field Trip
After the Symposium, the participants visited various locations of interest in Fiji. These include the Nature Way Cooperative's export treatment facility, the Bula Agro Nursery, the Sigatoka Wet Market, the pottery village of Lawai in Sigatoka, and the model farm of the Taiwanese Technical Mission (TTM).
Written by Christian Cangao