The 2021 International Symposium on Tropical Fruits (ISTF 2021) was held on 28-30 September, organized by the International Tropical Fruits Network (TFNet) and co-organized with Malaysian Agricultural Research and Development Institute (MARDI), African-Asian Rural Development Organization (AARDO), Centre for Agriculture and Bioscience International (CABI), Indonesian Fruits Research Institute (ITFRI), Fruit Tree Research Institute (FTRI), Guangdong Academy of Agricultural Sciences (GDAAS), and the Indian Institute of Horticultural Research (ICAR- IIHR). Burleigh Dodds Science Publishing was the media partner for ISTF2021.
With the theme "Boosting Tropical Fruit Production, Consumption, and Market to Enhance Healthy Diets and Improve Livelihoods," ISTF2021 provided a platform for stakeholders in the tropical fruit sector to discuss and respond to existing challenges, transfer industry information, experiences, scientific and research findings of challenges, practical issues and success stories on value chain enhancements and postharvest management of tropical fruits.
ISTF2021 attracted 166 participants from 16 countries – Malaysia, USA, Italy, India, Turkey, Philippines, Australia, China, Pakistan, Japan, Fiji, Netherlands, Indonesia, Bangladesh, Uganda, and Vietnam. The participants represented various sectors such as research institutes, the academe, international organizations, special interest groups, and the private sector.
Forty-five oral presentations, including two keynotes from the Food and Agriculture Organization of the United Nations (FAO) and Rabobank were delivered during the three-day symposium while 32 poster presentations were displayed, under the following themes: 1) Directions in tropical fruit research and development, 2) Breeding and crop improvement, 3) Consumer trends and expansion of tropical fruits in the global market, 4) Pests and diseases management, 5) Postharvest technology, 6) Linking farmers to market: Integration into value chains, and 7) Good practices and productivity enhancements.
During her welcome and opening address, Chairperson of the TFNet Board of Trustees (BOT), H.E. Dato' Haslina Abdul Hamid who also serves as the Secretary General of the Malaysian Ministry of Agriculture and Food Industries (MAFI) said "Tropical fruits play a critical role in sustaining healthy diets and ensuring food security."
"For the past two decades, the International Tropical Fruits Network (TFNet) has been in the forefront of national, regional and international collaborations for tropical fruits development," she added. "Malaysia believes that this symposium opens doors for stakeholders of the industry including researchers to identify issues of common interest, latest innovations and evidence-based solutions towards charting holistic strategies for sustainability."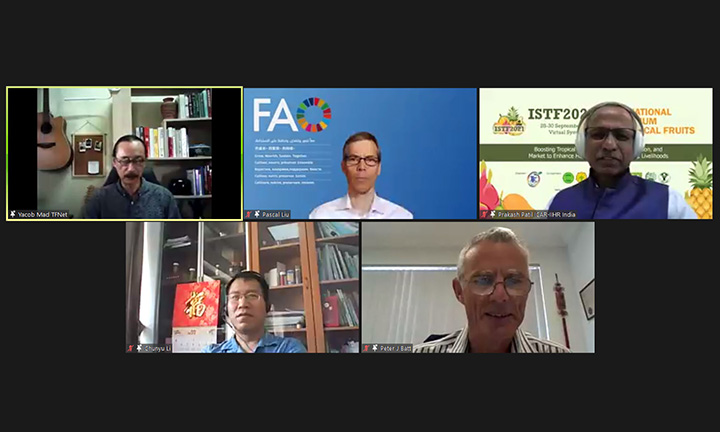 On the last day, a panel discussion was held to discuss 'Enhancing smallholder inclusion into tropical fruit value chains' and 'Managing impacts on supply chain (esp. tropical fruits) disruptions'. The session was moderated by TFNet advisor Mr. Yacob Ahmad. The panelists were Mr. Pascal Liu, Senior Economist from Food and Agriculture Organization of the United Nations; Dr. Prakash Patil, Principal Scientist and Project Coordinator from the Indian Institute of Horticultural Research; Dr.Li Chunyu, Vice Director of the Fruit Tree Research Institute in Guangdong Academy of Agricultural Sciences; and Prof. Dr. Peter Batt from the University of Western Australia.