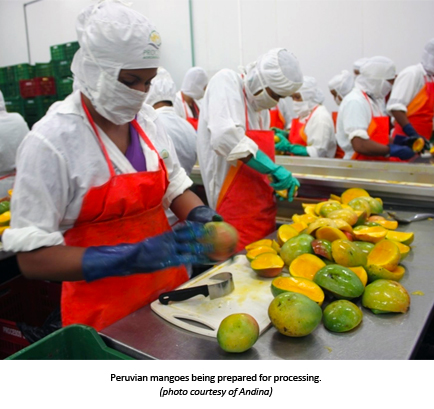 Peruvian mango exports will reach 140,000 tons at the end of the 2013 – 2014 season, about 40% increase, said the Peruvian Association of Mango Producers and Exporters (EMPA).
"At the rate we're going, we can easily overcome our initial projection of 100,000 tons and will be producing between 130,000 and 140,000 tons," said general manager of EMPA, Juan Carlos Rivera. For the 2013 – 2014 season, 4,307 containers were exports, a significant increase from last seasons' 3,044 containers. Piura province produces the most mango, accounting for 75% of the total. Provinces of Guateng and Ancash produce 15% and 10% of the total, respectively.
The mango variety 'Kent' accounts 95% of exports for its high quality appearance and taste. Primary export markets are European countries, USA, and Canada.