In a move that could benefit thousands of pineapple growers in the hilly regions of the North-East, the Imphal-headquartered Central Agricultural University has developed a technology to convert and process the fruit into value-added powder.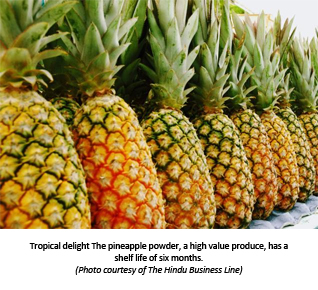 Pineapple is a major horticultural crop in the north-eastern region, but growers have been facing marketing challenges due to logistical issues.
The eight north-eastern States account for more than half of the 1.57 million tonnes of pineapple produced in the country.
Value-addition
"We have developed a processing technology to convert the pineapple into powder that retains the flavour of the fruit. We have filed for a patent and expect to commercialise this technology soon," said SN Puri, Vice-Chancellor, Central Agricultural University.
Puri said using the technology juice extracted from pineapple is converted into powder – a high value produce that has a shelf life of six months.
One quintal or 100 kg of pineapple can be processed into 10 kg of powder, which can be used in confectionery, ice creams and ready-to-serve drinks, among others. The College of Agricultural Engineering and Post Harvest Technology in Sikkim, one of the six institutions under the CAU, has developed this technology.
Processing units
CAU intends to take this technology to the farmers' doorsteps through customised mobile units. The primary processing of extracting the juice will be done in the areas of cultivation.
CAU will be setting up final processing units at its colleges and several district headquarters where the juice will be converted into powder, Puri said.
Bonus for growers
Growers will be paid on spot for the juice extracted, while they will also be given an option of bonus, based on the realisations of the processed powder.
"Our aim is to help farmers in the hilly regions fetch justifiable returns for their produce," he added.
Source: The Hindu Business Line