Good yield of guava in Nesarabad upazila under the district fails to make growers happy as prices of the popular fruit remains unusually low in the local wholesale market.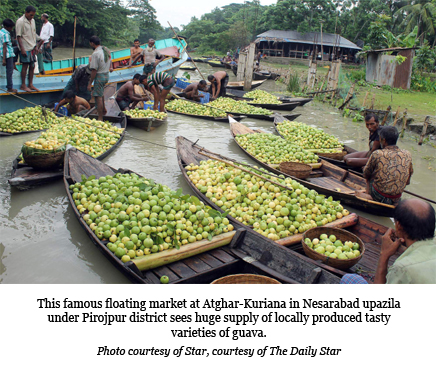 On Tuesday a maund of guava sold for Tk 80-120 at Atgar-Kuriyana, a large wholesale floating market that sees sellers from Nesarabad upazila as well as adjacent Barisal and Jhalakathi districts.
Tasty varieties of guava from the area are sent to different areas including capital Dhaka.
"Before Eid we could sell a maund (40 kg) of guava for around Tk 500. As the fruit has become more available with harvest the prices has come down to around Tk 100," said Mosarraf of Atgar area in Nesarabad.
"A labourer employed for Tk 300 daily can pluck four maunds of guava that sells for around Tk 400," said Tapan Mollik of Kuriyana village in the upazila, who cultivated guava on his ten-bigha garden.
A local grower arriving in Dhaka expressed surprise after seeing that the fruit is selling there for Tk 100 or over per kg, the prices being around 40 times than that in Nesarabad.
Last year too, local guava farmers incurred huge losses as the business saw serious setback due to countrywide political agitation like frequent hartal and blockade.
Quality varieties of guavas grow at Atgar, Kuriyana, Jalabari, Shangal, Swarupkathi, Alankarkathi, Samudoykathi, Mahamudkathi and some other places of Nesarabad upazila and areas in adjacent Barisal and Jhalakathi districts.
Farmers have demanded that the government take steps for ensuring fair prices of guava for continuation of the cultivation of the nutritious fruit in the area.
According to Nesarabad agriculture office sources, 1,250 farmers have cultivated guava on 650 hectares of land in the upazila this year.
Last year 8.5 tonnes of guavas were harvested from one hectare of land on an average.
Source: The Daily Star