by Nurbaiti Hamdan, The Star
Two days after showcasing the country's agro-based products on Nov 20, the event chalked up sales worth RM350,000.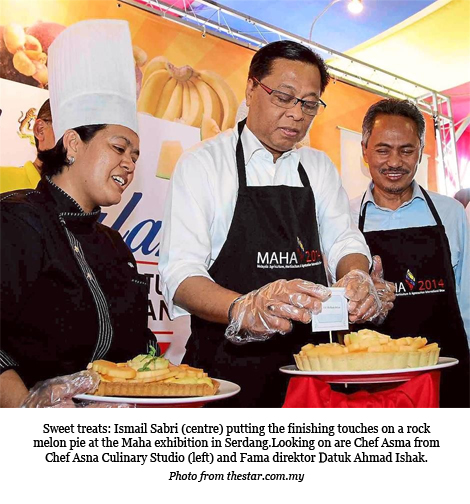 The organisers are hoping the figures will hit RM2mil by the time the curtain closes on the Malaysia Agriculture, Horticulture and Agro-tourism (MAHA) show on Sunday.
"We are optimistic the sales will reach RM 2mil by the last day," Agri­culture and Agro-based Industry Minister Datuk Seri Ismail Sabri Yaakob said at the Malaysia Agro Exposition Park in Serdang yesterday.
Earlier, he received a certificate from a representative of the Malaysia Book of Records for the Federal Agricultural and Marketing Authority (FAMA) on its creation of 100 recipes from rock melon.
Some 374 entrepreneurs have joined the show under the agro-based cluster, with products ranging from food and drinks to herbs and frozen items.
"We are hopeful for the entrepreneurs will form ventures with potential agents and distributors (to expand their business)," said Ismail Sabri.
He is optimistic the biennial event will surpass its RM2mil targeted sales, including from the agro-based industry.
FAMA director-general Datuk Ahmad Ishak said rock melons were of high value and had good business potentials.
"We are encouraging rock melon for agriculture business. Typically, people would consume the melon raw as cut fruits or blend it as juice.
"But, as you can see from the 100 menu we presented, you can incorporate rock melon into dishes such as pies and pizzas," he said.
Maha 2014 is open from 10am to 10pm daily until Sunday.
Source: The Star