The General Management of the Colombian Agricultural Institute, ICA, ordered the implementation of measures to mitigate the radical rot that is affecting avocado in several municipalities in the region of Montes de Maria.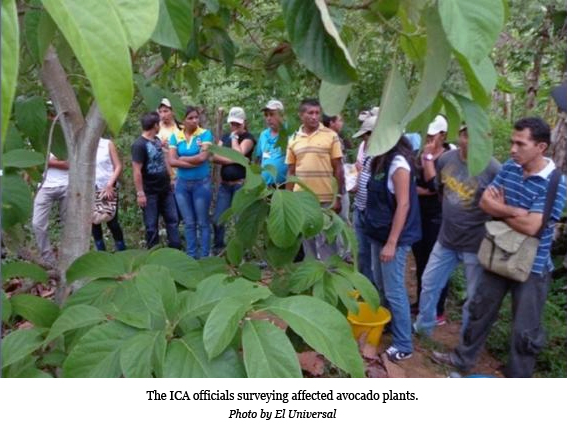 These measures were taken after the ICA implemented the 03496 resolution of October 30, 2014, which decreed the phytosanitary emergency to control and manage the effects of the plague that is attacking the crops.
The measures to mitigate the effects of radical rot of avocado, their management and control are applied especially in the towns of El Carmen de Bolívar, San Jacinto and San Juan de Nepomuceno (in Bolivar), as well as in Ovejas, Chalán, Colosó and Toluviejo, in Sucre.
There was a training conducted in the local offices of Sincelejo and El Carmen de Bolívar for the staff bound by contract to perform the mitigation activities in Montes de Maria.
Emergency aid
The director of the ICA in the department of Sucre, Ivan Sierra Martinez, who is personally delivering supplies to avocado producers, stated that the ICA was developing a mitigation plan for the disease and that they had given support to 2,100 avocado producers by giving them supplies and visiting their crops to accompany them in the process.
Preventive training
The ICA has also done 150 workshops to train producers in the management of the disease and they have demonstrated the method in 25 plots with good results, according to Sierra Martinez.
"The ICA will continue performing these activities as part of the disease mitigation plan, so we are calling the farmers in the area so that they carry out the applications that are pending at the beginning of the rainy season, according to the recommendations given in the workshops and visits," he said.
The project's staff, which is coordinated by Monica Guerrero Rojas, will continue carrying out activities and follow-up visits to the affected premises, stressed Ivan Sierra Martinez.
Source: El Universal
Translation: Freshplaza