Sixty farmers in Kota Marudu will be the first in Sabah to grow a pineapple variety produced through tissue culture technology under a pilot project, after receiving 20,000 seedlings of the MD2 variety, Monday.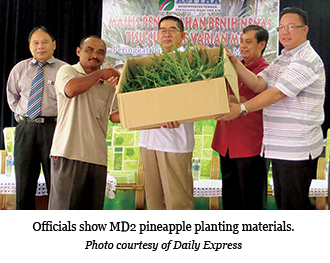 The seedlings were symbolically handed to them by Energy, Green Technology and Water Minister Datuk Seri Panglima Dr Maximus Ongkili under a programme initiated by the Parliamentary Agriculture Development Council which he chairs.
The farmer had before this undergone training on how to grow the pineapple variety, which is supposed to be better in terms of yield, shape and size, sweetness and ability to stay fresh longer.
"The purpose of this project is to help the farmers to diversify their crops as well as to encourage them to utilise their idle land. This initiative will also produce job opportunities and increase the income of the farmers as the variety is proven to be better in production and yield," he said.
Dr Maximus, who is Kota Marudu MP, is confident the farmers would not have any problem to sell their produce as it is the best variety available and has good potential for domestic and international market.
Later, he gave free 200 seedlings to the district agriculture department's Farming Training Centre to develop more cluster farming of the fruit.
Source: Daily Express