In Antalya's Manavgat district in Southern Turkey, the watermelon yield has increased by 27,000 tonnes in comparison with the year before. Two years ago watermelon produce harvest, from the fields and greenhouses totalled 73,000 tonnes, whereas last year 100,000 tonnes were produced.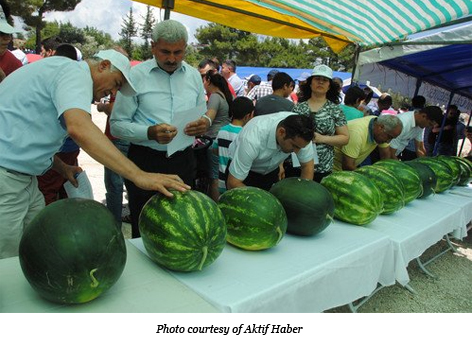 Manavgat Food, Agriculture and Livestock chairman, Yesim Tiravoglu Demirtas, stated that in the district in the preceding year 14,000 decares of open field produced 63,000 tonnes of the fruit and 2,255 decares of greenhouse produced 9,130 tonnes.
Manavgat village leader Hasan Goktas explains that the area is known for water-melons and will hold its 9th watermelon festival this year. Goktas points out that when Isparta is mentioned people think of roses, Adapazari means quinces, Osmaniye is equated with nuts, Bursa with peaches, Manisa with melons and when Manavgat is mentioned the first thing that comes to peoples' minds is the watermelon. The area is famous for the amount of watermelons grown there.