by Juan Aguon Charfauros, Kuam News
Many looking for their pitaya or dragonfruit fix, head over to the roadside stand in Barrigada situated in front of the National Guard Readiness Center. There you will find a longtime farmer simply known as, Mr. Liu.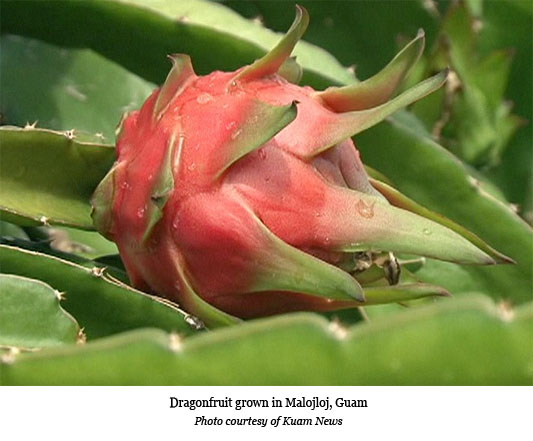 Now for those of you who have yet to taste or see this beautiful fruit, it has an intense shape and color. It is usually a dark red color, although some types of this fruit are pink or yellow. The skin of the dragon fruit is a thin rind. The skin is usually covered in scales, and the center of the fruit is made up of a red or white, sweet tasting pulp- many compare the taste to that of a melon or a kiwi.
Mr. Liu's dragonfruit farm is in the heart of Malojloj, where he and his wife tend to five acres. He grew up in Taiwan until he was about 15 years old and then moved to Guam where he has been for the past 30 years with the last five years farming. Mr. Liu says farming is something he has always wanted to do. He says back in Taiwan, he helped his father and grandfather harvest rice and beans.
His farm has is a unique one-with rows of raised garden beds full of dragonfruit. The garden beds are made utilizing old tires. He said, "The tires good for 35 years, the dragonfruit life is about 30 years so it's just perfect."
By using old tires it provides a way to recycle problem items that cannot be melted or turned back into tires. In addition, the dark color of tires helps to heat the soil to extend planting time, and the raised structure enhances soil drainage.
Sadly, his farm has been struck by thieves in the past who steal the dragonfruit and try to sell to consumers at a much cheaper price. In doing this they are not only damaging the plants but also affecting the livelihood of Mr. and Mrs. Liu, who depend on the money made from their fruit. He asks that consumers familiarize themselves with the local farmers and buy directly from the farmers whenever possible.
Mr. Liu is registered with the Department of Agriculture as a bona fide farmer, and also grows sugarcane and kang kong.
If you would like to purchase dragonfruit in bulk, you can call farm to table at 647-0100 to coordinate or you can stop on by his stand or cost-u-less and pick up a few pieces to try. Buy local. Support local.
Source: Kuam News