​Nine women from the 'Hallisiri' organisation have been successful in preparing jackfruit noodles. After almost a month's hard work, these women have created different types of noodles, semia, muru-kku and chakkuli from raw jackfruit-incorporated batter.
Manjamma S Balaya, president of the nine-member organisation, said, "We have been preparing at least 90 value-added products from jackfruit which have been appreciated over the years by various organisations. Now, jackfruit noodles are ready, and they have turned out very tasty. The next big challenge before us is to scale up the production, as well as increase the shelf life."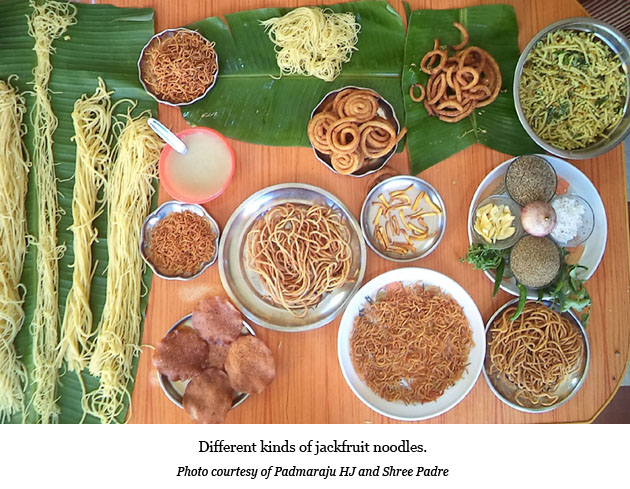 Agriculturist Padmaraju HJ from Tumakuru, who has been helping women promote value-added jackfruit products, said it was just the right time that women hit upon the idea. "Maggi noodles was banned after the popular instant snack contained lead beyond the permissible limit and the jackfruit festival was just held. The main inspiration for this step has been Shree Padre, editor of Adike Patrike, a Kannada agricultural magazine, who has played an important role in uniting and encouraging jackfruit growers.
The project attracted support. These women, who are basically creative homemakers, have joined hands. Before working on any new product, they sit together, debate and discuss. Tumakuru produces a large number of jackfruits," he said.
Padre said despite a renewed interest in jackfruits in both Kerala and Karnataka, the former was a far bigger market for the fruit.
"There is a good demand for the value-added products and now is the time to re-organise markets for the fruit. These women have (experimented) and this has been appreciated by consumers. (But) they must be in a position to earn money out of their hard work. For that, their product needs to have a shelf life of at least six months, must be fine-tuned, packaged and marketed. They have the raw material, power and passion. If someone can come forward and train them, it would be great. Technology providers should train these women," he said.
Kerala is far ahead in developing jackfruit-related products. Delta Food Products, a two-year old product-making unit in Kannur, that manufactures chappatis and bakery items, recently launched jackfruit seed chapatti. Artocarpus Foods, also based in Kannur, processes jackfruit-related products under the 'Hebon' line. They have launched items like chakkavaratty (a traditional dish), dehydrated jackfruit and multipurpose powder from jackfruit seeds that can be used for making bakery products, curry powders and porridge.
Source: Bangalore Mirror