China's new envoy to Malaysia Bai Tian was delighted by his trip to Bentong, Pahang yesterday and promised to promote the district as an eco-tourism spot to his fellow countrymen.
According to The Star, Bai Tian — who discovered his love for durian some 20 years ago — was treated to a durian feast during his visit to Bentong yesterday, where they savoured the king of fruits at an orchard.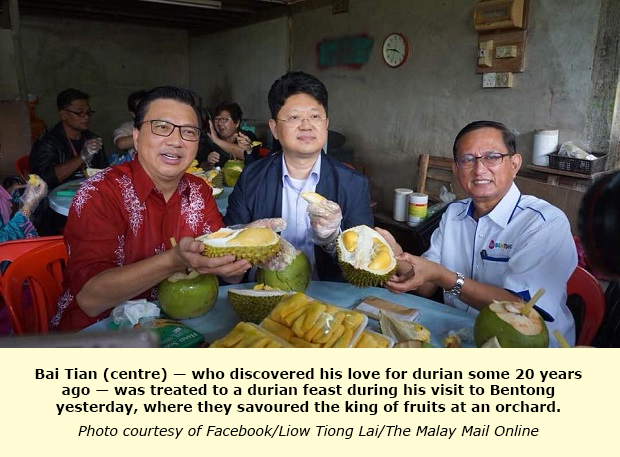 He also had the opportunity to sample many durian-based products including coffee and glutinous rice desserts.
"They truly live up to their reputation. I will encourage more Chinese tourists to savour the durians, check out homestays and indulge in the nature here," he reportedly said.
"If we work together, I believe Bentong will be even more vibrant," he added.
Bentong is the constituency of Transport Minister and MCA president Datuk Seri Liow Tiong Lai, who played host to Bai.
Bai, who took over from Huang Huikang on November 28 last year, urged the locals to prepare for an influx of Chinese tourists and to "welcome them with open arms".
The 15th envoy to Malaysia said apart from aspiring to foster higher, faster and stronger bilateral ties, he also promised to work towards making exporting whole durians to China a reality.
Source: The Malay Mail Online