The 2019 lychee harvest in the northern province of Bac Giang set a new all-time record for revenue at over VND 6.3 trillion (USD 270.9 million), according to the Department of Industry and Trade of Bac Giang province.
The lychee cultivation hub of Bac Giang has sold approximately 150,000 tonnes of local lychees in the 2019 crop to earn over VND 6.3 trillion including the revenue from lychee products and supporting services.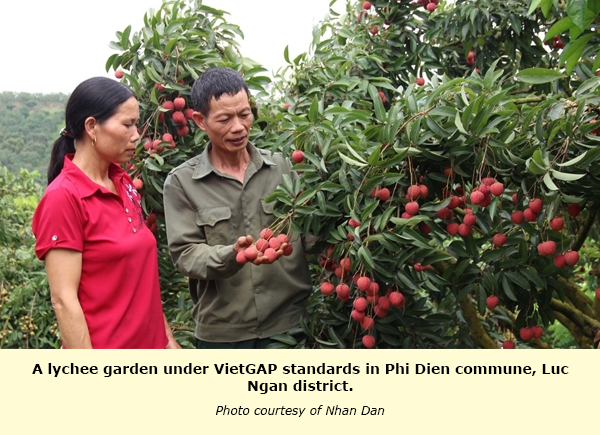 Despite lower output compared to that of 2018, revenue from lychees in the 2019 crop has increased sharply thanks to higher selling prices, which is the result of improved cultivation methods towards VietGAP and GlobalGap. In addition, more than 50% of lychee output has been exported, bringing about higher value for farmers and producers.
The 2018 lychee crop posted an output of 230,000 tonnes and a total revenue of nearly VND 5.9 trillion (USD 253.7 million). Meanwhile the lychee revenue from the 2017 and 2016 crops were over VND 5.3 trillion (USD 227.9 million) and VND 5 trillion (USD 215 million) respectively.
According to Cao Van Hoan, vice chairman of the People's Committee of Bac Giang's Luc Ngan district, the quality of lychees in 2019 was assessed to be the highest ever with high selling prices.
This is also the first year the district piloted organic growing methods on 20 ha of lychees which helped to increase the value of the fruit, Hoan noted.
Prices of lychees from the early crop until now have remained stable and high, ranging from VND 30,000 – VND 70,000 (USD 1.38-2.99) per kg. Farmers can earn an average of VND 230 million (US$9,890) per ha of lychees.
Bac Giang lychees are also sold at most large supermarkets, including BigC, Vinmart, Hapro, and others, at a stable price of roughly VND60,000 per kg.
Besides the main export market of China, Bac Giang lychees have been exported to the EU, the Middle East, Russia, the US, Canada, Japan, the Republic of Korea, Singapore, Thailand, Australia and others.
Source: Nhan Dan