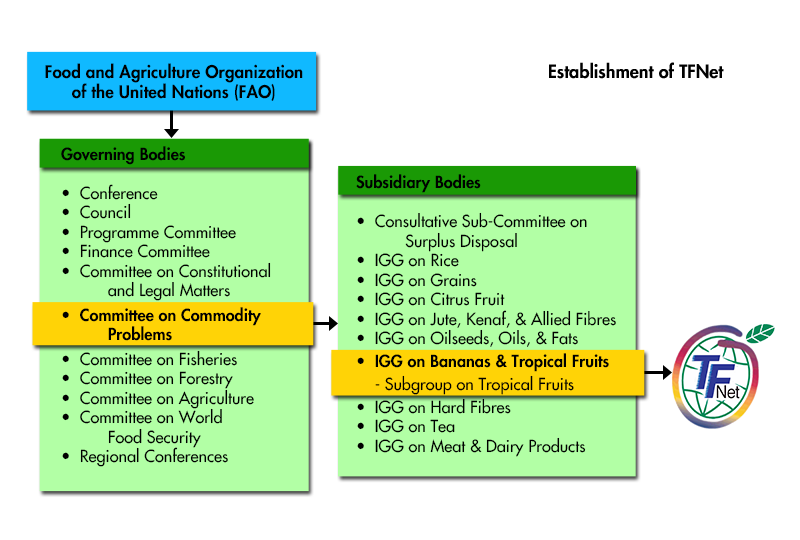 Establishment of TFNet
In 15-19 July 1996, the Food and Agriculture Organization of the United Nations (FAO) organized the first International Consultation on Tropical Fruits in Malaysia with delegates from 22 countries.
The consultation deliberated on two main issues:
 Economics and trade, focusing on the current situation of the tropical fruits industry, future prospects for fresh and processed products, tariff, and phytosanitary and quarantine measures.

The importance of tropical fruits in providing important dietary nutrients such as vitamins, minerals, fiber, micronutrients, and other beneficial non-nutrient compounds.
A number of resolutions were adopted during the consultation but the most important was the creation of a network for tropical fruits.
Meanwhile, an agreement was made with the FAO Intergovernmental Group (IGG) on Bananas to establish a Sub Group on Tropical Fruits (SGTF) at the 61st Session of the Committee on Commodity Problems (CCP) meeting in Rome, Italy on 25-28 February 1997. As a result, the SGTF was established during the 15th Session of the IGG on Banana in Rome, Italy on 7-9 May 1997.
After the special formation of SGTF, the 1st session was held in Pattaya, Thailand on 25-28 May 1998. It was agreed in the meeting that the proposed network of tropical fruits should be an independent global network, with possibility of regional networks.
During the 1st IGG meeting on Bananas and Tropical Fruits held in Gold Coast, Australia on 4-8 May 1999, it was agreed that Malaysia will be the host of the network on tropical fruits. They also appointed the first Chief Executive Officer.
Thus, the International Tropical Fruits Network (TFNet) was born. TFNet held its first General Assembly on 27-29 July 2000.