International Tropical Fruits Network (TFNet) organized a study tour focussing on the development of the fruit industry in Malaysia, for the  Bangladesh Department of Agriculture Extension on 18-24 June 2014.
The participants of the study tour were 12 officials from various offices of the Department of Agricultural Extension (DAE), Ministry of Agriculture, Bangladesh. The team was headed by SM Quamruzzaman, Project Director of Integrated Quality Horticulture Development Project (IQHDP).
The study visit aimed to:
Learn, discuss and share information on research related to fruit tree cultivation and management in research institutions and private sector in Malaysia.
Observe plantation, smallholder management and agricultural practices including irrigation, Integrated Pest Management (IPM), fertigation and agronomic methods adopted in the cultivation of fruit trees and melons.
To observe activities along the value chain such as postharvest management and processing of fruits / other horticultural produce to ensure quality improved market access.
It is estimated that about 80% of agricultural land in Bangladesh is devoted to cereal production. The country needs to diversify agriculture by increasing the production of other crops, including fruits, to reduce imports and to provide additional resources to strengthen its food security policies. While much of fruit cultivation is smallholder based, productivity needs to be enhanced through the utilization of appropriate technologies, which then have to be transferred by an effective extension system. The overall objective of this study visit is therefore to prospect for technologies, adopting and customising them for local conditions and then extending them to the smallholders.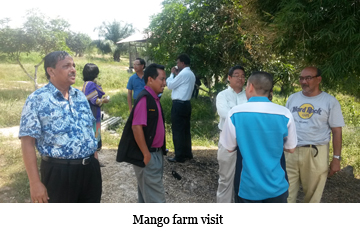 Field Visits
The study visit began with a briefing at the TFNet office, followed by a presentation on the role and achievements in tropical fruit research by the Malaysian Agricultural Research and Development Institute (MARDI). The group then proceeded to the Malaysian Department of Agriculture, for a presentation and discussion on the various programs on tropical fruit, including issues on production, pest and disease management and marketing.
The visitors spent the rest of the tour visiting:
a large, commercial jackfruit growing area involving commercial growers operations in one of the Government initiated Permanent food production park in the State of Pahang;
Large scale cultivation of pitaya and guava farms in Johor;
Malaysian Pineapple Industry Board (MPIB) and pineapple farms in Johor