The 8th Session of the International Tropical Fruits Network (TFNet) Board of Trustees (BOT) was held in Putrajaya, Malaysia on 12-13 August 2014.
The Board of Trustees meeting was Chaired by Dr. Yi Ganjun, Vice-Chairperson of TFNet and Vice-President of the Guangdong Academy of Agricultural Sciences, China. The Vice Chairperson for the Board meeting was Dr. Trinh Khac Quang, Vice President of Viet Nam Academy of Agricultural Sciences and TFNet Vice-Chairperson, while Mr. Muhammad Salimi Sajari, Undersecretary from the  Malaysian Ministry of Agriculture and Agro-based Industry (MOA) represented TFNet Chairperson and Secretary-General Dato' Mohd Arif Bin Ab. Rahman. The Secretary of FAO's Intergovernmental Group on Tropical Fruits, Mr. Kaison Chang was also present with Chief Executive Officer Yacob Ahmad acting as Secretary.
Thirty-four delegates participated in the meeting including 11 country members, 1 associate member, 1 expert member, 2 FAO representatives, 13 observers including from Asian-African Rural Development Organization (AARDO) and Center of Integrated Rural Development for Asia and Pacific (CIRDAP) and the TFNet Secretariat.
TFNet CEO, Yacob presented the TFNet progress report for 2013-2014, including projects and consultancies, capacity building activities, workshops, and information dissemination, finance and administration report, and networking efforts with other international organizations. The planned activities for 2014 and 2015 were also discussed.
Australia representative Robert Williams and Sudan representative Baldreldin Elshiek Elhassan presented the internal audit report which outlined TFNet's performance the past 12 months. The auditors recommended that the network needed to boost up its financial sourcing capabilities to ensure sustainability of the network.
Before making any amendments to the TFNet Constitution  to review the membership fees for country members, the Secretariat was requested to look at all possible options and propose an acceptable quantum for all country members.
The draft of the TFNet Strategic Plan for 2014-2020 presented the framework in the next 6 years through strategic areas like strengthening linkages with common interest groups, enhance communication and coordinated with other networks, and tackle critical issues in production, consumption, and trade of tropical fruits. The meeting agreed that the draft plan be sent to all members for comments before finalising it.
Dr. Yi Ganjun also presented the China – ASEAN Agricultural Science and Technology Network, which was established by the Ministry of Science and Technology, People's Republic of China. It aims to bring China and ASEAN agricultural scientific organizations, universities, and enterprises together. The Network carries out scientific forums, academic exchange, and personnel training for agriculture officers, technicians, enterprises, and farmers.
Members also discussed pressing issues of the tropical fruit industry in their respective countries such as pests and diseases, information dissemination, increasing costs of inputs, quality planting materials, postharvest losses, SPS issues, and poor marketability of fruits.
The Board decided that the 9th TFNet Board meeting for 2015 will be held in Sri Lanka.
After the meeting, a field trip was organised to a jackfruit farm and a processing center for minimally processed chilled durian.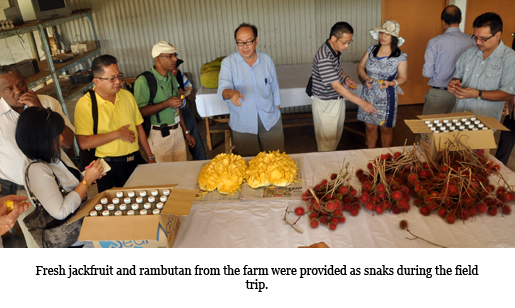 Board of Trustees and Delegates
Muhammad Salimi Sajari, representing
HE Dato' Mohd Arif Bin Ab. Rahman
TFNet Chairperson and Representative of the Government Malaysia
Ministry of Agriculture, Malaysia
Dr. Yi Ganjun
TFNet Vice-Chairperson and Representative of the Government of China
Guangdong Academy of Agricultural Sciences, China
Dr. Trinh Khac Quang
TFNet Vice-Chairperson and Representative of the Government Viet Nam
Viet Nam Academy of Agricultural Sciences
Mr. Kaison Chang
Representative of the Food and Agriculture Organisation (FAO)
Mr. Yacob Ahmad
Secretary
Chief Executive Officer of TFNet
Dr. Hasanuddin Ibrahim
Representative of the Government of Indonesia
Ministry of Agriculture, Indonesia
Dr. Prakash Patil, representing
Dr. Vinod Kumar Singh
Representative of the Government of India
Indian Institute of Technology
Mr. Danilo Dannug, representing
Atty. Paz J. Benavidez
Representative of the Government of Philippines
Dr. D.B.T. Wijeratne
Representative of the Government of Sri Lanka
Mr. Shalendra Prasad, representing
Ms. Meliakere Nawaikula
Representative of the Government of Fiji
Ministry of Agriculture, Fiji
Dr. Adelaja Babasola, representing
Dr. Adenike Olusolape Olufolaji
Representative of the Government of Nigeria
National Institute for Horticultural Research (NIHORT), Nigeria
Dr. Badreldeen Elshiekh Mohamed Elhassan
Representative of the Government of Sudan
Department of Horticulture, Sudan
Mr. Bob Williams
Representative of the Government of Australia
Northern Territory Department of Resources, Australia
Mr. Ali Abdallah Jaleel
Representative of the Government of Saudi Arabia
Najran Horticulture Research Center, Saudi Arabia
Mr. Mahpudz Shariff
Associate Member, Sime Darby Food and Beverage, Malaysia
Dr. Janie Liew
Expert Member, Universiti Malaya Sabah, Malaysia
Observers
Dr. Hassan M. Ali Dinar
Food and Agriculture Organization of the United Nations, Saudi Arabia
Mdm Peyanoot Naka
Department of Agriculture, Thailand
Dr. Than Than Sein
Myanmar Fruit, Flower, and Vegetable Producers and Exporters, Myanmar
Dr. Cecep Effendi
Centre on Integrated Rural Development for Asia and the Pacific (CIRDAP)
Dr. Manoj Nardeosingh
Afro-Asian Rural Development Organization (AARDO)
Dr. Nguyen Quoc Hung
Fruit and Vegetable Research Institute, Viet Nam
Dr. Nguyen Van Hoa
Southern Horticulture Research Institute, Viet Nam
Mr. Jeffrey Choong
Fruit Farmers Association, Malaysia
Mr. Mansor Omar
Federal Agricultural Marketing Authority (FAMA), Malaysia
Mr. Tengku Malik Tengku Makmum
Malaysian Agricultural Research and Development Institute (MARDI), Malaysia
Dr. Deng Gui Ming
Guangdong Academy of Agricultural Sciences, China
Dr. Zuo Cunwu
Guangdong Academy of Agricultural Sciences, China