By Nadine Freischlad, The Jakarta Globe
At the Startup Battle event at Asia Conference in Jakarta on Thursday, I was captivated by the pitch of a company called iGrow. In The Battle, nine early-stage startups compete against each other in front of a panel of judges for a $ 10,000 (Rp 122.7 million) prize. iGrow, I was happy to learn at the end of the evening, had won.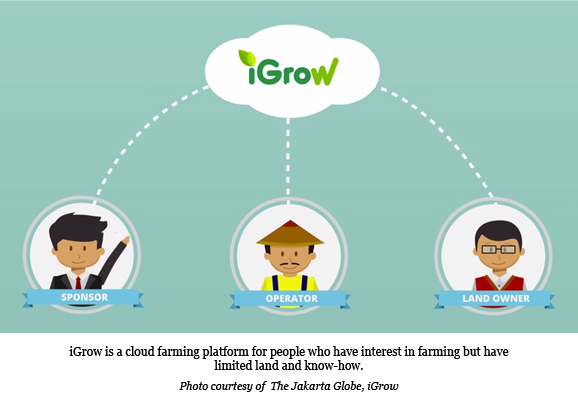 iGrow's pitch was delivered by developer Andreas Senjaya; young, and, if I might say, unusually eloquent for a technologist.
The basic idea of iGrow is micro-financed farming at scale. It speaks to urban people who know nothing about farming, but care about fresh, locally grown food. With a small investment, "sponsors," as the platform calls it, can support a farmer to grow certain crops on a suitable plot of land.
Like Farmville in real life
The platform allows potential sponsors to choose from a variety of crops. Right now, durian, peanuts and lengkeng fruit are available. The sponsor then chooses the amount of seeds to be planted, transfers the money to iGrow, who acts as an intermediary between the sponsors, farmers and other stakeholders.
The growth of the plants is monitored by an independent surveyor, who sends regular updates on the state of the crops to the sponsor via social media. After a period of growth, a first harvest is possible. iGrow uses its existing distribution channels to sell the harvest, and 40 percent of the returns are paid back to the sponsor.
Being guided through the process on iGrow's sleek platform interface is somewhat akin to playing farmville — only the farmers, land and crops, and the eventual returns, are real.
Andreas' playful presentation might suggest that iGrow is the utopian dream of idealistic first-time entrepreneurs. But the founder of iGrow, Iqbal Muhaimin is actually a seasoned businessman, the head of a conglomerate of companies in finance and data analysis.
Iqbal Muhaimin, however, also have a background farming. He is a graduate of the prestigious Bogor Agricultural University and does — literally — have experience in the field. This special mix of interests — agriculture, finance and data — is what led him to build iGrow. He teamed up with developer Andreas Senjaya three years ago to create the platform.
Iqbal explained that a problem farmers face in Indonesia is the lack of available bank loans for their type of business. Agriculture for food is seen as too risky compared to the plush profits to be expected from large-scale land use schemes such as oil palm plantations.
Circumventing structural problems
We can witness the result of this lack of investment in local food crop agriculture in the supermarket. Fruits native to Indonesia often come imported from Thailand and other countries in the region. There is little variety in the types of fruits and vegetables available.
Looking closer, iGrow is neither a utopian fun-project, nor a regular for profit business. Rather, it appears to be a smart communication device to address and circumvent a severe structural problem in the food crops sector. Instead of bank loans, iGrow sources capital through alternative channels, directly from individuals.
The platform lets sponsors ultimately decide what to do with their profit. They can receive the cash, donate to charities, or re-invest in more crops.
Iqbal says that in his experience, the sponsors of iGrow see their participation on the platform as a goodwill investment, rather than a money-making opportunity, even though he believes decent results of between 18 to 19 percent returns per year can be expected.
iGrow's marketing scheme specifically addresses those of medium to high-level income in urban centers. These are people who want to do good and are concerned about food quality and the environment.
iGrow's advantage in this early stage of its development is that it can rely on existing land, experienced farmers and distribution channels, keeping overhead costs manageable for now. Iqbal's idea is to expand the available food crop choices gradually, and hopes to be able to react to trends and user demands for less-common crops, such as olives or figs.
Intrigued? Sign up and become a farmer on iGrow.asia!
Source: The Jakarta Globe