The global banana industry, is currently under threat from a wilt disease caused by Fusarium oxysporium cubense Tropical Race 4. The fungus, which affects the Cavendish and other banana varieties bananas is already present in some Asian and African countries including China, Malaysia, Indonesia,Philippines and Mozambique. Due to the devastating nature of the disease, other banana producing countries now have to adopt a vigilant stance to prevent its spread.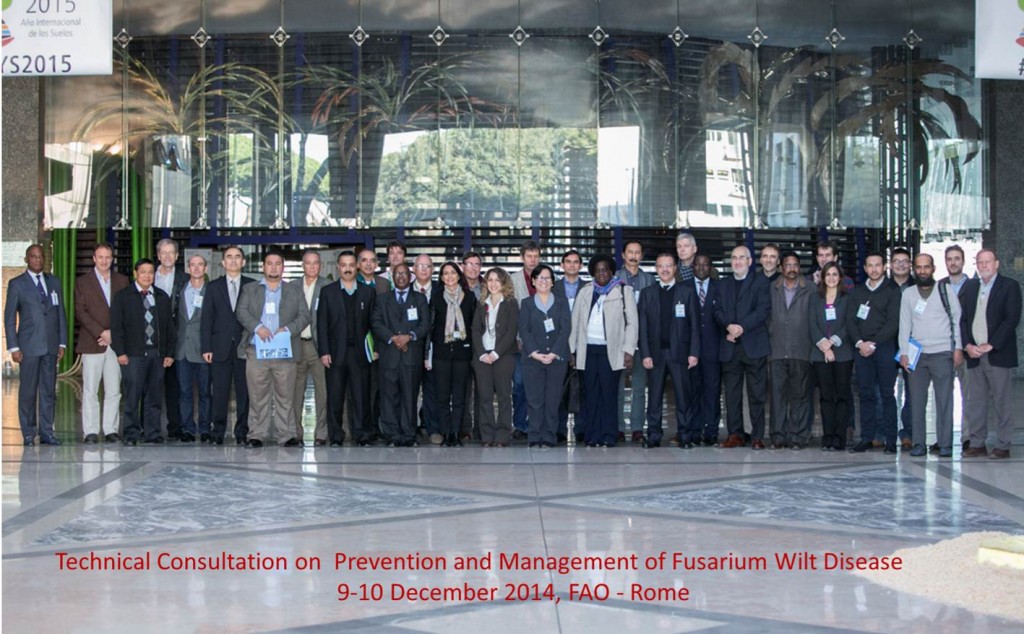 Cognizant of the impact of the disease to the global banana industry, the Food and Agricultural Organization (FAO) of the UN organised a consultation workshop on the 'Prevention and Management of Fusarium Wilt Disease of banana' at the FAO Headquarters, Rome on 9 – 10 December 2014. The meeting was attended by 35 experts from international and national institutions in Asia, Africa, Near East, Europe and Latin America and Caribbean.
Twenty nine presentations were discussed to assess the current status and activities carried out to prevent and manage the disease, in the different parts of the world.
The issues highlighted the prevention and management of the disease, including:
– Raising awareness at farmer, producer and political level,
– Surveillance, early detection and rapid response,
– Legislation, quarantine measures and role of IPPC and plant protection organizations
– Risk assessment and contingency planning,
– Use of clean planting materials,
– Development and use of resistant varieties,
– Inoculum reduction through appropriate management practices,
– Capacity building and training of technical officers and farm workers,
– Regional and global collaboration
The workshop also included the proposal to initiate a 'Global programme on prevention of Fusarium wilt disease in banana'