Minimal processing of fruits is becoming popular due to the increasing consumer preference for ready-to-eat convenient foods, the proliferation of supermarkets and expanding middle class.
The process involves peeling or dehusking, cutting and packaging the fruit in a hygienic setting before it is stored or distributed in a cold chain environment. This process eliminates the hassles of handling and dehusking large fruits, latex exudates and disposal of outer pericarp or other waste products, besides retaining the aroma, flavor, taste, color and texture of the fresh fruits. The other advantages include products that are of quality, uniform, takes up less storage space and easy handling (as they are in packages).
Tropical fruits such as jackfruit, durian, and pineapple are ideal for minimal processing because of their large size and difficulty in peeling. Minimal processing can also ease export by reducing air-freight cost and quarantine barriers, which is related to the compliance of regulations related to fruit pests, particularly fruit flies.
Countries such as Japan, Australia, China, and United States have strict quarantine protocols to prevent importation of fruits infected with pests.
Minimal processing is an effective method for quality control as cutting the fruits open can indicate if they are infected, meeting the market requirements by importing countries.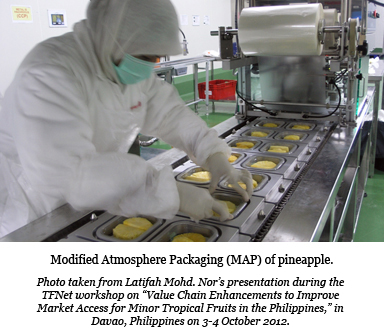 Through government funding the Malaysian Agriculture Research and Development Institute (MARDI), in collaboration with the private sector and agencies such as the Department of Agriculture, Federal Agricultural and Marketing Authority, Malaysian Pineapple Industry Board, and Farmer's Organization Authority, have been conducting intensive research and export trials to verify that minimally processed fruits (pineapple, jackfruit, and durian) from Malaysia are free from pests.
Presently, Malaysia has obtained the market access for minimally processed pineapple and durian to Australia, while New Zealand has granted similar access for pineapples. While waiting for the market access to China, successful export trials of minimally processed durian has been conducted to Hong Kong.
Next in the pipeline, Malaysia is waiting for the market access of minimally processed jackfruit to China. Detailed discussions and sites visits by officials of the General Administration of Quality Supervision, Inspection and Quarantine of China (AQSIQ) have been going on for the past 2 years.
This article is based on a paper submitted by Latifah Mohd Nor, Malaysian Agricultural Research and Development Institute (MARDI).