TFNet CEO Dr. Mohd Desa Haji Hassim visited fruit production areas and markets in Fiji on 22-23 August 2015, including the Legalega Research Station in Nadi and the Sigatoka Research Station in Sigatoka.
The visit aimed to observe the activities and technologies in tropical fruit production, learn about the research directions in Fiji fruit industry, and visit various markets that sell local produce. Dr. Desa conducted the visit after attending the Centre on Integrated Rural Development for Asia and the Pacific (CIRDAP) Executive and Governing Council Meeting on 17-21 August 2015 in Naji, Fiji.
Mr. Shalendra Prasad, Principal Research Officer (Horticulture) of the Ministry of Agriculture, accompanied Dr. Desa during the visit.  Mr. Prasad is also the Bureau Officer of TFNet in Fiji.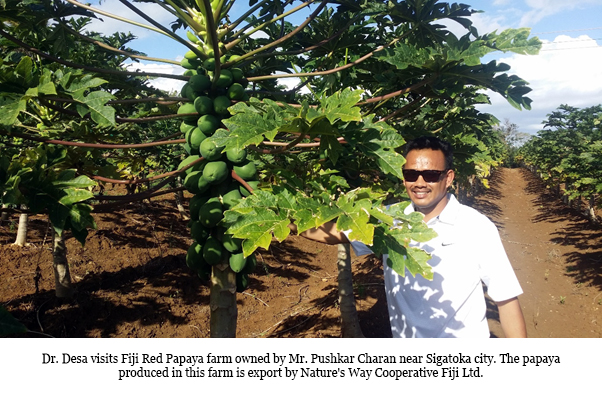 The Legalega Research Station houses an impressive collection of tropical fruits such as mango, mangosteen, bread fruit, star fruit, banana, and black sapodilla.
Meanwhile, the Sigatoka Research Station produces quality planting materials for papaya, mango, lemon, and bread fruit. It is also currently establishing a citrus germplasm collection. Dragonfruit is also planted in the stations but is not yet commercialized.
In Fiji, the most profitable fruits are papaya, bread fruit, banana, and mango. Their primary fruit export is the Fiji Red papaya, currently being planted in 70 hectares and producing around 3,000 tonnes of fruit. Around 800-1000 tonnes of Fiji Red papaya are exported to Australia, New Zealand, and Hong Kong, through the Nature's Way Cooperative Fiji Ltd.
Nature's Way was established in 1995 to provide quarantine treatments on Fijian fruits. It has flourished into a successful agribusiness that offers technical services such as production technologies, logistics, and postharvest to smallholders, ensuring high-quality produce worthy of export. They have established packing houses next to Nadi International Airport, equipped with Vapor Heat Treatment (VHT) facilities to comply with sanitary and phytosanitary requirements.