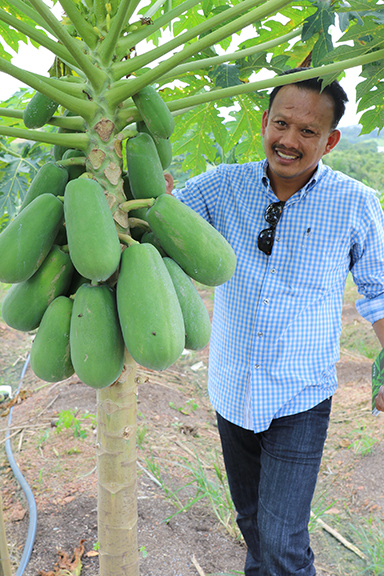 I wish you members and friends of TFNet a happy new year!
In 2016, TFNet turns 16 years and will continue to play a major role in facilitating international cooperation in production, consumption, logistics, markets, and trade development in the global tropical fruit sector.  I would like to take a moment to update you on our plans for this year. We will collaborate with members and stakeholders in 6 focus areas, aiming to develop a more lucrative tropical fruit industry in all regions while delivering high quality fruits that are safe to eat. The 6 areas will focus on poverty alleviation through international technical and economic cooperation among the different sectors of the industry, facilitation of trade expansion, promotion of research and development activities, improvement of consumer knowledge through information dissemination, implementation of capacity building projects, and expansion of TFNet membership to more countries, particularly Latin America and the Caribbean.
Together with members and stakeholders, TFNet will carry out baseline studies, work with farmers and rural communities to establish fruit farms as added income through Good Agricultural Practices, promote the use of good germplasm of selected fruit types, facilitate transfer of new technologies, improve supply chain activities, and increase downstream processing of tropical fruits.
We also plan to hold our yearly Board of Trustees (BOT) meeting in The Philippines sometime in August this year. An international symposium will also be conducted then on the recent developments in research and their applications to production, product development, trade, and marketing. Plenary papers from experts will feature the global trends of major tropical fruits and the potential of underutilized fruits.
2016 will indeed be busy year for TFNet as we organise activities with our partners such as the Food and Agriculture Organization of the United Nations (FAO), African-Asian Rural Development Organisation (AARDO), Crops for the Future Research Centre (CFFRC), Centre on Integrated Rural Development for Asia and the Pacific (CIRDAP), and Agricultural and Food Marketing Association for Asia and the Pacific (AFMA).
As we begin this year together, I wish everyone a fruitful 2016. I hope the new year will bring more opportunities for us to work together.
"Our goals can only be reached through a vehicle of a plan, in which we must vigorously act. There is no other route to success." – Stephen A. Brennan