The International Tropical Fruits Network (TFNet) in collaboration with the Food and Agriculture Organization of the United Nations (FAO), launched the One Million Fruit Trees Planting Campaign (1-MFT) with the aim to encourage stewardship of the environment through the planting of tropical fruit trees, while improving nutrition and livelihood. The first phase of the campaign has been initiated in Malaysia, together with the Ministry of Agriculture and Agro-based Industries, private companies, the academe, and individuals.
(For more information and updates on 1 Million Fruit Trees Planting Campaign, visit www.1mfruittrees.org)
The campaign is aligned with some of the United Nation's Sustainable Development Goals (SDGs) to end poverty, achieve food security, combat climate change and create resilient livelihoods. It also complements the Plant for the Planet: Billion Tree Campaign initiated by the United Nations. 1-MFT solely focuses on tropical fruit trees, which are sustainable and viable sources of food, income and livelihoods.
1-MFT aims is to plant at least 1,000,000 tropical fruit trees for nutrition, livelihood, and environmental security and sustainability. The campaign will be implemented through TFNet's global network of countries to encourage governments, corporations, entrepreneurs, youths, smallholders and households to plant fruit trees. Success stories of the campaign's first phase will be used as a model for other TFNet member countries including Philippines, Fiji, Australia, Bangladesh, China, India, Indonesia, Nigeria, Saudi Arabia, Sudan, Sri Lanka, and Vietnam.
Tropical Fruit Trees for Self-Sufficiency and Economic Well-Being
Farmers and commercial entrepreneurs will be trained to ensure that their fruit production adheres to Good Agricultural Practices (GAP) and Good Handling Practices (GHP). This would verify that the fruits produced will be of high quality and in compliance with global food safety practices enabling exportation thus aiding the economy. Smallholders and indigenous peoples will be included in an enrichment program to teach, encouraging them to plant tropical fruit trees as an incentive to help eradicate poverty.
In Malaysia, the National Food Bank Project or "Projek Gedung Makanan Negara" (GMN) launched by the Prime Minister of Malaysia, YAB Dato' Sri Najib bin Tun Haji Abdul Razak in 2009, will include Federal Land Development Authority (FELDA) settlers. Other similar agencies such as Federal Land Consolidation and Rehabilitation Authority (FELCRA) and Rubber Industry Smallholders Development Authority (RISDA) would also be included.
Awareness campaign 
National awareness campaigns through various media outlets in cooperation with telecommunication and broadcasting networks will be created to provide further knowledge to the public on the importance of tropical fruits. Social media and the creation of apps will also be used to significantly increase campaign visibility. Students in the higher institutions will be encouraged to participate in social outreach programs into rural areas to help educate and train villagers on environmental stewardship. Environmental stewardship modules will be developed for schools nationwide in order to instill a sense of responsible stewardship especially towards the environment. Students would also be encouraged to plant tropical fruit trees within school compounds as an extra-curricular activity — maintaining it throughout their tenure.
Soft Launch
1-MFT was soft launched on 1 September 2016, in partnership with the Philippine Bureau of Plant Industry (BPI) and the Tagum Agricultural Development Company (TADECO), Inc. in Davao City, Philippines.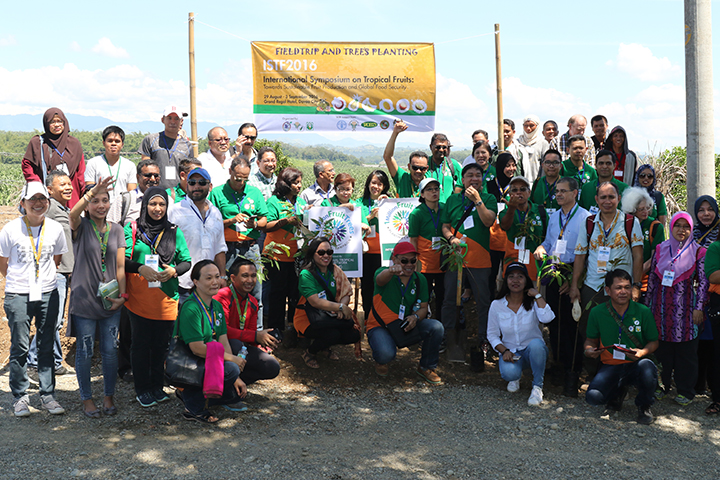 The soft launch was held during the International Symposium on Tropical Fruits (ISTF 2016): Towards Sustainable Fruit Production and Global Fruit Security. Both activities were in line with the United Nation's Sustainable Development Goal of zero hunger through adequate food access and healthy diets for all people.
"Planting trees are important to increase out carbon footprint and mitigate climate change," said Dr. Mohd Desa Hassim, Chief Executive Officers of TFNet. He adds "Instead of planting ornamental trees, we should plant fruit trees as they provide healthy food for communities and livelihood."
Thirty international delegates from 11 countries participated in the tree planting, mainly: Australia, Bangladesh, Fiji, Germany, Jordan, Malaysia, Myanmar, Nicaragua, Philippines, and Sri Lanka. Representatives from international organizations such as the Food and Agriculture Organisation of the United Nations (FAO), African – Asian Rural Development Organisation (AARDO), Inter-American Institute for Cooperation on Agriculture (IICA), GlobalHort, and Bioversity International were also in attendance.
The delegates planted durian trees in farmer communities surrounding the banana plantations owned by TADECO as part of their corporate social responsibility activities. The seedlings were certified as good quality planting materials and were donated by the BPI.