The International Workshop on Production, Value Addition, and Marketing of Jackfruit was launched on August 9 in the Regional Agricultural Research Station, Ambalavayal, Wayanad, Kerala, India. The 6-day-long festival is being organized by the Kerala Agriculture University, the Ministry of Agricultural Development and Farmer's Welfare, the government of Kerala, the International Tropical Fruits Network (TFNet), Indian Council of Agricultural Research (ICAR), the National Horticulture Board, State Horticulture Mission, Vegetable and Fruit Promotion Council of Keralam, District Legal Services Authority, and the International Society for South East Asian Agricultural Sciences (ISSAAS).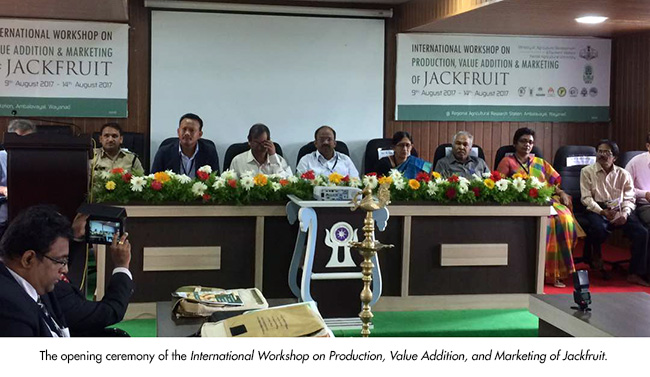 The workshop aims to increase the awareness of jackfruit as a potential commercial fruit crop in Kerala. The event intends to create a forum for discussion on the dissemination of knowledge and technologies on jackfruit, strategies for value addition and marketing, the importance of establishing a network of breeders, food processors, farmers, businessmen, researchers, and scientists.
The schedule of the workshop are as follows:
Day 1: Status of research on jackfruit

Commercial cultivation and crop improvement
Value addition and processing
Developing marketing networks

Day 2: Jackfruit industries

Diversification of products – jackfruit seed flour and others
Commercial extractors, dryers, pulping machines, and other engineering components
Standardization of packaging techniques

Day 3: Nutraceutical and pharmacological potential

Nutritional information
Anti-oxidant content
Other health benefits

Day 4: Role of jackfruit in food security

Employment potential
Food security
Ethnic food

Day 5: Funding agencies for promotion of jackfruit

Agency for processing
Agency for capacity building

Day 6: Field tour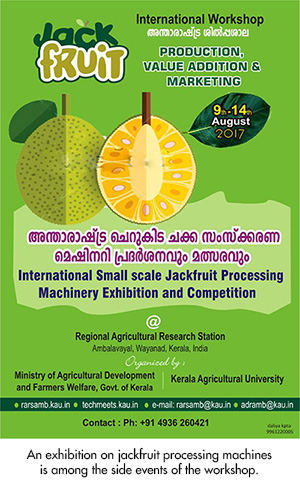 Other activities will also be conducted alongside the workshops, including a Jack "Sadhya" or feast that will feature 18 dishes prepared from jackfruit, an International Small-Scale Jackfruit Processing Machinery Exhibition and Competition, a cultural procession, a fruit and flower show, a photo competition, cooking and carving competition, a best jackfruit competition, and a week-long training on jackfruit processing for women entrepreneurs.
The first field jackfruit gene bank will also be setup by the Kerala Agricultural University and the state agriculture department for the conservation of genetic diversity. There are currently 54 foreign and native varieties in the gene bank that will be evaluated. The gene bank will provide farmers with planting materials from superior varieties that are suitable for commercial use.
For more information on the workshop and concurrent events, kindly contact the Ambalavayal Regional Agricultural Research Station of the Kerala Agricultural Agricultural University at rarsamb@kau.in, adramb@kau.in or +914936260421.