TFNet joined the International Conference on Agriculture and Agro-based Industry Sarawak (ICAAS 2017) from the 21st -22nd August 2017. Aside from displaying during the exhibition, CEO Dr. Desa Hassim presented during one of the sessions.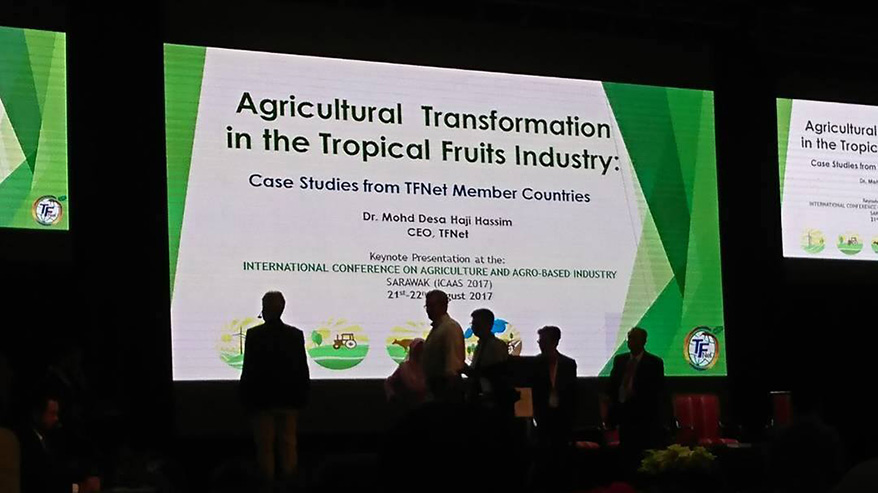 The event was opened by Datu Haji Ismawi bin Haji Ismuni, Deputy State Secretary (Socio-economic Transformation), Sarawak, Malaysia. "Agriculture has been identified as one of the key sectors in the transformation of the Sarawak State economy," said Datu Haji. "The agriculture sector also plays an important role in alleviating poverty and uplifting the standard of living of the rural communities, hence the State is pushing for higher productivity and commercialisation of agriculture."
The conference featured more than 20 eminent local and international renowned speakers and industry experts in agriculture and the agro-based industry. The sessions are divided into four tracks namely; Modernisation and Commercialisation of Agriculture: Scenario and Trends, Journey towards Transformed Agriculture, Stakeholders Integration along the Supply Chain, and Digital Agriculture. The conference will highlight current issues, challenges, trends, opportunities and the way forward in agriculture and the agro-based industry. There will also be exhibitions featuring the agriculture and the agro-based industry products during the conference by industry players, institutions and government agencies.