International Tropical Fruits Network (TFNet), Department of Agriculture, Malaysia and Malaysia Agriculture Research Development Institute (MARDI) jointly organised a workshop on 'Integrated Approaches in Banana Disease Management' at the Malaysia Agro Exposition Park, Serdang, Malaysia on 22 March 2011.
Banana plantations in Malaysia have been severely affected by Fusarium wilt and Moko diseases and effective management of these two diseases are central to the successful production of banana. Cognizant of the impact of these diseases on the Malaysian banana Industry, this workshop was organised with the following objectives.
•  To impart to the participants basic information on distribution, causal agent, mode of spread and control of the diseases
•  To share and exchange views with experts from China, Philippines, Indonesia and Malaysia on the management of the diseases.
•  To provide guidelines on the effective management these diseases in Malaysia.
The workshop was attended by more than 180 participants from both government and private sectors involved in the research, production, marketing and advisory services of banana industry in Malaysia.
The resource persons for the workshop were leading experts in banana cultivation and disease management from China, Indonesia, Malaysia and Philippines. They shared their experiences and interacted with the participants, by providing information on research findings and also on current practices in disease management. The integrated approaches discussed included early detection, field surveillance, field cultural practices such as mixed cropping, crop management system and chemical control. The workshop felt that it was imperative to set up a National Banana Disease Task Force to monitor and coordinate operations / activities required to mitigate incidences of banana diseases.
The papers presented were:
Paper 1: Status of banana cultivation and disease incidences in Malaysia by Mr. Mokhtharuddin Hussein, Department of Agriculture
Download
Paper 2: Status of banana diseases research in Malaysia by Y.M. Tengku Ab. Malik bin Tengku Maamun, MARDI, Malaysia
Download
Paper 3: Management of banana diseases in China by Dr. Li ChunYu, Fruit Tree Research Institute, GAAS, Guangzhou, China
Download
Paper 4: Induced Reistance of banana against fusarium wilt by Dr. Christanti Sumardiyono, University Gadja Mada, Indonesia
Download
Paper 5: Integrated management of banana diseases in Indonesia Dr. Siti Subandiyah, Universiti Gadja Mada, Indonesia
Download
Paper 6: Banana Diseases: Continuing major production constraint and R&D challenges in Asia by Dr. Agustin Mollina, Bioversity International, Philippines
Paper 7: Control of Fusarium wilt in banana with Chinese leek by Dr. Yi Ganjun, Fruit Tree Research Institute, GAAS, Guangzhou, China
Download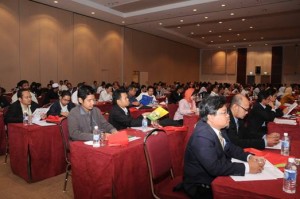 Participants of the workshop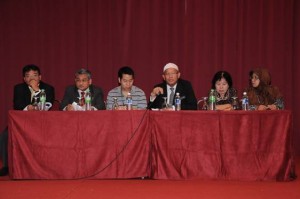 First Session of the workshop with speakers from China, Indonesia and Malaysia
Dr. Yi Ganjun, Director, Fruit Tree Research Institute, Guangzhou, China commenting on a point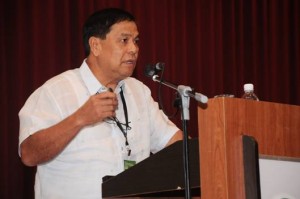 Dr. Agustin Mollina, Bioversity Intl. Philippines delivering his presentation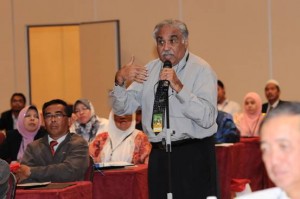 Interaction from workshop participants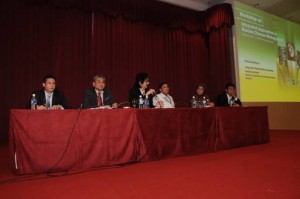 Panel discussion to deliberate on course of action