The International Tropical Fruits Network (TFNet) organized the first International Conference on Tropical Fruit Pests and Diseases (TROPED 2018) at the Le Meridien, Kota Kinabalu, Sabah, Malaysia on 25-27 September 2018.
Bearing the theme "Sustainable Solutions for Tropical Fruit Pests and Diseases," TROPED 2018 was co-organized with the Biotechnology Research Institute, Universiti Malaysia Sabah (UMS), Centre for Agriculture and Biosciences International (CABI), Department of Agriculture, Sabah, Malaysia (DOA Sabah), and Malaysian Agricultural Research and Development Institute (MARDI).
One hundred six participants from 14 countries attended the conference, including China, Fiji, Germany, India, Indonesia, Malaysia, The Netherlands, The Philippines, Sri Lanka, Sudan, Thailand, United Kingdom, United States of America, and Vietnam.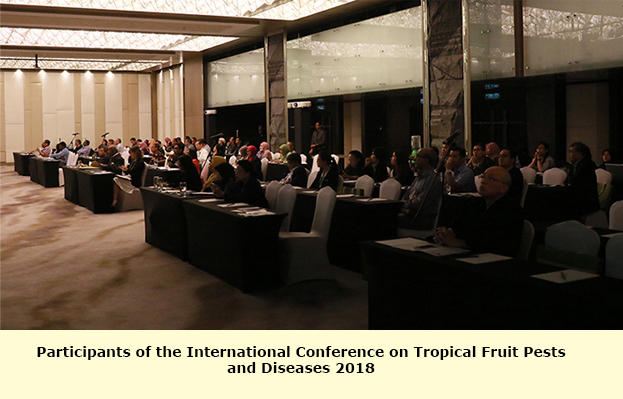 Twenty-two oral presentations were delivered during the conference while thirteen poster presentations were displayed in the exhibition area. Presentations fall under the following topics: 1) New and Emerging Tropical Fruit Pests and Diseases; 2) Challenges and Opportunities in Biosecurity and Quarantine; 3) Plant Health, Soil Nutrition and Disease-free Planting Materials; 4) Advances in Biological Control Methods; 5) Advances in Biotechnology Research on Tropical Fruit Pests and Diseases; and 6) Developments in Plant Protection: Emerging Trends and Capacity Requirements.
On behalf of Sabah Chief Minister Datuk Seri Panglima Haji Mohd. Shafie Haji Apdal, TROPED 2018 was officiated by Dr. Daud Yusof, Sabah's Assistant Minister for Agriculture & Food Industry.
"To meet increasing market demands for tropical fruits and cater to the ever changing trends over the past decade, the industry has to remain relevant by embracing transformation and confronting the roadblocks ahead," said Dr. Daud. He added, "the Sabah government welcomes discourse among various stakeholders in the industry to come up with sound recommendations to safeguard the tropical fruit sector."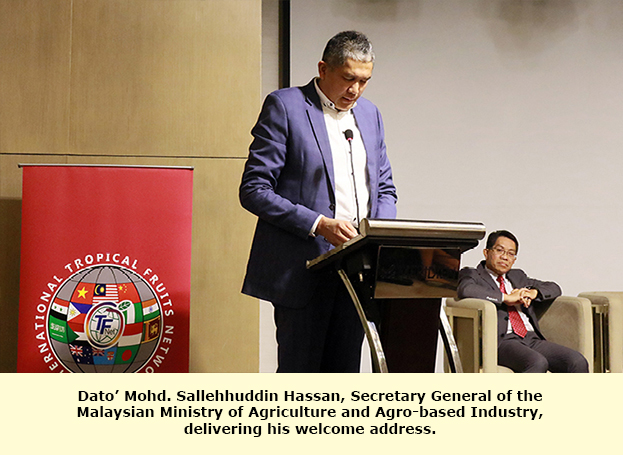 "One of the serious impediments to the progress of the tropical fruit industry is the spread of pests and diseases," said Dato' Mohd. Sallehhuddin Hassan, Secretary General of the Malaysian Ministry of Agriculture and Agro-based Industry, during his welcome address.
"It is of upmost importance to overcome these issues in paving the way for the viable and sustainable growth of the tropical fruit industry. This inaugural conference on tropical fruit pests and diseases is seen as a catalyst towards creating an intellectual platform among like-minded researchers, industry players and growers to come together to identify feasible solutions to manage the issue that has been plaguing the tropical fruits industry," added Dato' Sallehhuddin.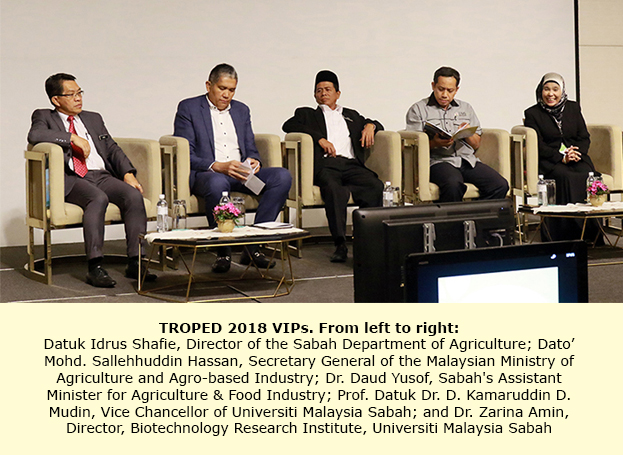 Other VIPs who spoke during the opening ceremony were Prof. Datuk Dr. D. Kamaruddin D. Mudin, Vice Chancellor of Universiti Malaysia Sabah, and Datuk Idrus Shafie, Director of the Department of Agriculture, Sabah Malaysia.
Food security and crop loss
"Improving crop productivity is vital to reducing rural poverty and increasing food security," said Dr. Jayne Crozier, Plant Pathologist from CABI during her keynote on The Role of Plant Health in Food Security.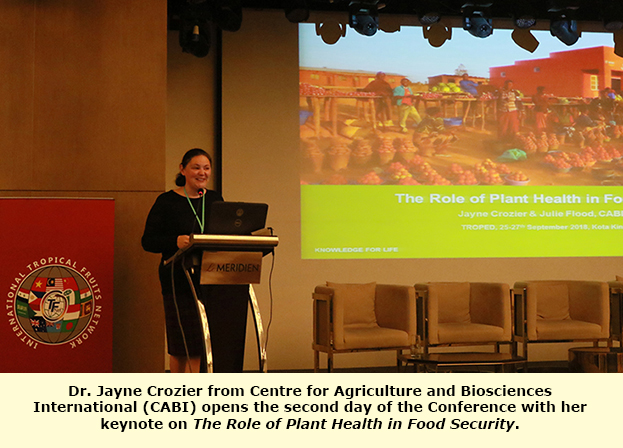 However, Dr. Crozier said that crop pests and diseases contribute more than 50% of losses depending on the crop. She estimated that about 40% of output is lost before crops are harvested and 10% more are lost during the post-harvest.
Despite these losses, Dr. Crozier noted that most plant health issues are ignored by tropical fruit growers due to poverty. Even if ideal management practices have been established, they are also not adopted by growers. Improving adoption is critical in addressing plant health issues and in turn, improving food security.
Managing pests and diseases
"Tropical fruit diseases are serious constraints to the production of tropical fruit crops. They are complex interactions, and are caused by diverse pathogens," said Dr. Randy Ploetz from University of Florida during his keynote paper Progress on, and the Future Outlook for Managing Tropical Fruit Diseases.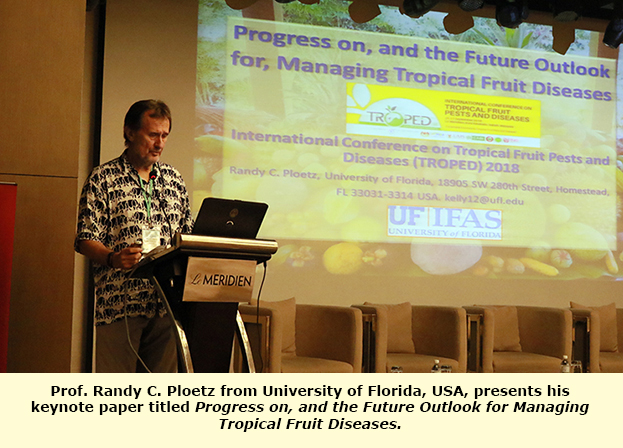 According to Dr. Ploetz, the most common way to control pests and diseases are through chemical means. However, even the most effective products eventually reduce their efficacy as pathogens become more resistant. Some diseases caused by bacteria, viruses, and some fungi even have few or no chemical management options.
In many situations, Dr. Ploetz recommends the use of planting materials that are resistant to disease. These planting materials can be obtained through conventional breeding and selection programs as well as non-conventional measures like somaclonal variations, mutation breeding, Clustered Regularly Interspaced Short Palindromic Repeats (CRISPR), and molecular approaches.
For growers, Dr. Ploetz recommended agricultural practices that can be applied to reduce the incidence of diseases such as quarantine, proper removal and disposal of diseased plants, removal of alternate hosts, selecting ideal growing areas, planting on raised beds, and planting in containers.
Finally, Dr. Ploetz said that post-harvest treatments can protect fruits from disease. These include hot air or water treatment, controlled atmospheric content, irradiation, and vacuum storage.
Poster Presentations and Exhibits
Of the thirteen poster presentations, the best poster award went to Mr. Arullthevan Rajendram from University of Malaya, Malaysia for Isolation and Characterization of Pathogenesis-Related Gene 1 (PR-1) from Musa spp. against Meloidogyne incognita Infestation.
Meanwhile, exhibitors include Sabah Tourism Board, CABI, DOA Sabah, and UMS.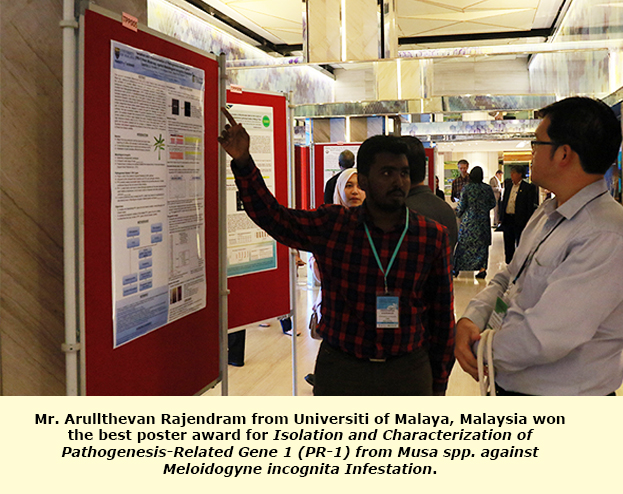 Panel Discussion
To close the event, a panel discussion on Recommendations for sustainable solutions in the management of tropical fruit pests and diseases was moderated by Yacob Ahmad and panelists include Prof. Randy Ploetz, Dr. Jayne Crozier, Ms. Sabine Altendorf from Food and Agriculture Organization of the United Nations (FAO), Evenni Poilli from DOA Sabah, and Mr. Ramli Md. Afandi from DOA.
The panel concluded with the following recommendations:
Formulate and/or strengthen an implementable action plan specifying roles of stakeholder in the form of SOPs to combat any pests or disease outbreaks should be available at any time. This includes at the surveillance level, establishment of buffer zones, up to the control level.
Emphasis to be given to enhance the role of extension services to carry out the tasks in an action plan.
Biosecurity measures is an important component of pests and diseases introduction, spread and control. Stricter border controls should be emphasized.
Information dissemination on new threats and capacity building activities to all stakeholders have to be consistent and enhanced.
Prioritize and strengthen research and development on major pests and diseases that can devastate main fruit types and impact livelihoods of growers. Research can also be prioritized to the private sector.
Contributed by Christian Cangao