Colombia has declared a national state of emergency following confirmation that a dread fungus has appeared in the country's banana plantations. The 8 August declaration marks the first time that Fusarium wilt tropical race 4 (TR4), which has devastated crops in Asia, has been confirmed in Latin America, the world's largest exporter of bananas. Signs of the fungus were first spotted in June in northern Colombia, putting the region on high alert.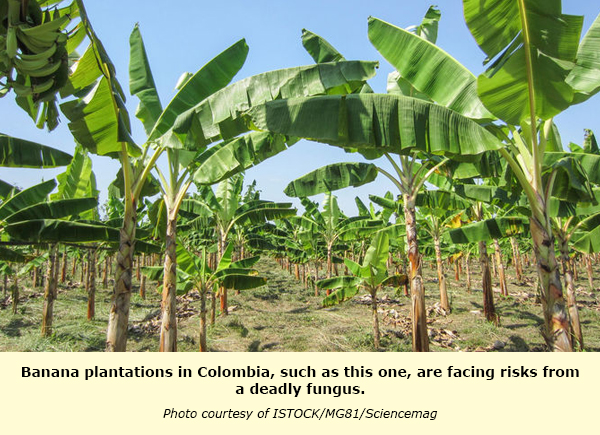 The Colombian Agricultural Institute (ICA) in Bogotá has now announced plans to expand biosecurity efforts, after eradicating plants on nearly 170 hectares of quarantined farmland. ICA plans to increase sanitary control measures at all ports, airports, and border points, although the disease has so far been reported only in the La Guajira region of the country. Government officials are considering providing funding to small and medium-size banana exporters to help them implement better biosecurity measures, such as disinfecting machinery, shipping containers, and footwear in quarantined areas. The government will continue to monitor the situation through a combination of surveillance flights and on-the-ground inspections. And on 5 August, agricultural ministers from across Latin America met in Quito to discuss plans to prevent further outbreaks.
TR4, for which there is no treatment, kills plants by disrupting their vascular systems, and it can persist in soil for decades. Experts at Wageningen University and the biotech company KeyGene, both in the Netherlands, used genome sequencing and molecular diagnostics to confirm the TR4 diagnosis in infected plant samples from Colombia. The fungus strikes both bananas and closely related plantains.
Colombia is the fourth largest exporter of bananas in Latin America, with sales of $866.2 million in 2018. Only coffee and flowers are more valuable agricultural exports for the nation. Banana plantations cover roughly 50,000 hectares of land, whereas farms growing less valuable plantains, mostly for the domestic market, cover an additional 400,000 hectares.
Source: Sabine Galvis, Science